Queensland's Spot to see Spring Apple Blossoms!
Did you know that all of Queensland's apple crop is grown around Stanthorpe?  One million apple trees!
That makes Stanthorpe Queensland's most stunning location for viewing orchards of apple blossoms this spring!
When to See the Apple Blossoms
End of September and early October are the best time to plan to see the apple blossoms around Stanthorpe.  The peak blossom time does vary a little according to the weather, but early October is typically a reliable time to plan a trip to see them.
Other orchard blossoms, such as plum, peach and nectarines can be seen in the Granite Belt earlier in spring (often appearing as early as late August and first week of September).

Pictured: Apple Blossoms on Amiens Rd, Thulimbah area
Where to Find the Blossoms
Apple orchards are easy to spot as you drive around the areas north of Stanthorpe, but here are a few tips for where to look out for them…
Start at the Big Apple and Drive Along Amiens Rad
To see apple orchards the best drive is along Amiens Road, in the area 20 minutes north of Stanthorpe.
It's easy to know where to turn off the New England Highway to get to Amiens Road because you only need to look for the Big Apple!  Leave time to stop in at Vincenzo's at The Big Apple for a meal or to pick up some wine and deli produce, because this newly re-opened spot is a must-do.
Grab the mandatory pic 'holding up' the big apple and then head on your way down Amiens Road following the signs towards Stanthorpe Cheese.  The best apple blossoms are in the few kilometres along Amiens road just after you pass the cheese factory… but who can actually drive past a cheese factory without stopping to sample the delights!
There's plenty to see around this whole area and in fact you can do a loop along Amiens Road and end up back at Stanthorpe, travelling via Robert Channon Wines and the Granite Belt Brewery.
Please respect the farmers by not entering the orchards, but there is much to be admired from the roadsides.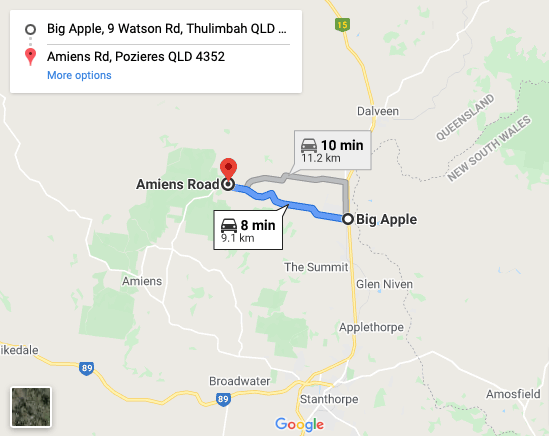 Picnic Under the Blossoms at Nicoletti Orchards
Experience spring on the Granite Belt up close walking through the fruit tree blossoms.
Book your ticket here for one of the Sundays in September/October when the Nicoletti family open their orchard to guests for BYO picnic under the blossoms.  Their farm is located in the Pozieres area, approximately 2 minutes north of Stanthorpe (off Amiens Road)
Price includes entry to Nicoletti Orchards, complementary apple samples and Apple & Ginger juice tastings from their farm shop located in the packing shed.  It's the perfect opportunity to capture photos amongst the blossoms.
Bring your own picnic and rugs/chairs.
Apple Blossoms & Apple Pie on the Farm!
A must-do when visiting Stanthorpe is a visit to Sutton's Juice Factory, where right there on the apple farm you can visit the farm cafe to taste and indulge in apple juices, ciders and what is widely known as the 'best apple pie ever!'
View the orchard in blossom as you approach the shed, or from the picnic dining table area outside.  (Sorry no access into the orchard.)
Halloran Drive, Thulimbah (across the Highway from the 'Big Apple).
10 minutes drive north of Stanthorpe.
Open 9.30am to 4.30pm daily
Cycle through the Orchards
Book a bicycle tour with Granite Belt Bicycles and Jon will guide you on a tour to the best spots to cycle through apple orchards, plus a stack of other interesting tourist spots along the way. They make it easy, providing all you need including quality bicycles and helmets.
Vineyard & Orchard Views in One
For a spot to see gorgeous vineyard views, coupled with orchard views right next door head to Summit Estate Wines, just 1km drive from Sutton's Farm.  Arriving at this popular cellar door you'll see signs of bud burst – the new spring growth appearing on the vineyards which have been dormant through winter. Enjoy a wine tasting inside and then stroll to enjoy your favourite wine on the verandah, taking in views of the vineyard and the neighbouring orchard in bloom.
Open Friday to Monday
291 Granite Belt Drive, Thulimbah
Stanthorpe is a scenic 2.5hrs from Brisbane or 2hrs from Toowoomba.
Pictured: Apple Blossoms, along New England Highway north of Stanthorpe