Queensland's Best Location to see Spring Apple Blossoms!
Did you know that all of Queensland's apple crop comes from the one million apple trees grown around Stanthorpe?
Throw in nectarines, cherries and other stone fruits and you've found Queensland's most stunning location for viewing avenues upon avenues of blossoms this spring!
When to See the Blossoms
Late September and early October are the best time to plan to see the apple blossoms around Stanthorpe.  The blossoms vary in timing a little according to the weather of the season.  The photo above and below of white apple blossoms was taken on 4th October.  The blossoms can disappear quickly if it rains, so do be aware that seasons will vary.
Other orchard blossoms, such as plum, peach and nectarines can be seen in the Granite Belt earlier in spring (often appearing as early as late August and first week of September).
Pictured: Apple Blossoms, along New England Highway north of Stanthorpe
Where to Find the Blossoms
Apple orchards are easy to spot as you drive around the areas north of Stanthorpe. A few tips for looking out for them…
To see apple orchards the best road to drive is along Amiens Road, 20 minutes north of Stanthorpe.  Turn off the highway at The Big Apple and drive towards Stanthorpe Cheese and travel further along that road to view even more orchards around Pozieres area. You can even do a really lovely country drive loop back via Robert Channon Wines and the Granite Belt Brewery to return to Stanthorpe via the Amiens Road loop.
Travelling along the New England Highway north of Stanthorpe you will even spot orchards on both sides of the highway as you zoom by.  Keep a look out for locations between the 'Big Apple' at Thulimbah and McDonalds in Stanthorpe.

Pictured: Apple Blossoms on Amiens Rd, Thulimbah area
Please respect the farmers by not entering the orchards, but there is much to be admired from the roadsides.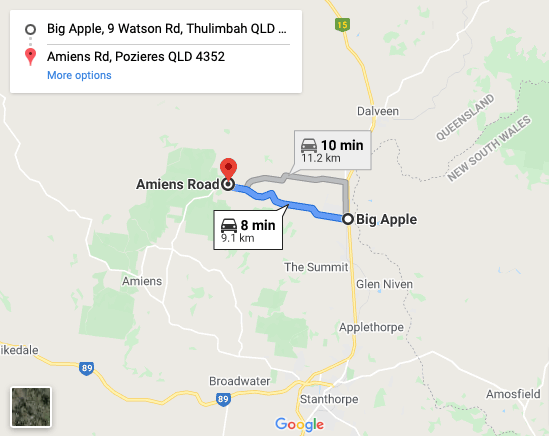 Cycle through the Orchards
Book a bicycle tour with Granite Belt Bicycles and Jon will guide you on a tour to the best spots to cycle through apple orchards, plus a stack of other interesting tourist spots along the way. They make it easy, providing all you need including quality bicycles and helmets.
Brunch in the Blossom
Visit on an orchard for a farm tour and brunch amongst the blossoms!  This new experience is new in 2020 and is being offered by Orchard Experience in Pozieres, 20 minutes north of Stanthorpe.
Saturday and Sundays: Brunch in the Blossom
9:45am arrive at farm
10:00am Start walking tour looking at farm history and different aspects of the orchard (apr. 1hour)
11am – Enjoy Brunch amongst the flowering blossom trees (apr 1.5hours)
Mid-week
Contact to enquire about a sunset orchard tour.
The Big Apple
Pull off the Highway at the Heritage Estate Church Cellar Door at Thulimbah and you'll be right next to the 'Big Apple' – a must see when you're on the hunt for apple blossoms.  After a wine tasting inside, take a careful stroll from there across the road for a closer photo with the Big Apple and from here you can walk next door also to the quaint historic Thulimbah Railway siding (trains typically pass here only once per month).
Apple Pie & Apple Cider on the Farm
A must-do when visiting Stanthorpe is a visit to Sutton's Juice Factory, where right there on the apple farm you can visit the farm cafe to taste and indulge in apple juices, ciders and what is widely known as the 'best apple pie ever!'
View the orchard as you approach the shed, or from the picnic dining table area outside.  (Sorry no access to the orchard.)
Halloran Drive, Thulimbah (across the Highway from the 'Big Apple).
10 minutes drive north of Stanthorpe.
Open 9.30am to 4.30pm daily
Vineyard & Orchard Views in One
For a spot to see gorgeous vineyard views, coupled with orchard views right next door head to Summit Estate Wines, just 1km drive from Sutton's Farm.  Arriving at this popular cellar door you'll see signs of bud burst – the new spring growth appearing on the vineyards which have been dormant through winter. Enjoy a wine tasting inside and then stroll to enjoy your favourite wine on the verandah, taking in views of the vineyard and the neighbouring orchard in bloom.
Open Friday to Monday
291 Granite Belt Drive, Thulimbah
Through the Orchards to Cheese Tastings!
Enroute to the Cheese Factory along Amiens Road, north of Stanthorpe you'll find yourself meandering through blossom filled orchards on each side on the quiet country road.  Stop for cheese tastings or plan to stay longer to enjoy one of their well loved Ploughman's Lunch platters.
Next stop, Boireann Winery just down the road, winds you back through and around the orchards and on to a short scenic drive up to a quaint country setting where Brad will welcome you with a smile and a fabulous wine tasting experience.
Stanthorpe is a scenic 2.5hrs from Brisbane or 2hrs from Toowoomba.