160 years of Winemaking History
Wine grapes were first planted on the Granite Gelt in the 1860's by the local catholic parish priest, Father Jerome Davadi. Later many Italian families settled in the region and grew vines to make wine for their own consumption.
The Beginnings
Originally home to the Kambuwal people the area of the Granite Belt was first visited by the explorer Allan Cunningham in 1827. In 1840 Ballandean pastoral run was established and here a "White Syrian" grapevine was planted around 1859. By 1872 tin had been discovered and this led to an influx of miners to the region. With "Quart pot creek" later renamed Stanthorpe (Tin Village).
The Ballandean village was surveyed and officially named in 1872. Thomas Fletcher built the Britannia Inn in the same year which attracted other businesses to the area. Fletcher went on to establish the first commercial orchard and vineyard in the Granite Belt.
In 1875 the local parish priest Father Geranimo Davadi originally from Le Marche Italy encouraged the tin miners to diversify as he could foresee problems when incomes from tin petered out. He even helped with cuttings from his own established nursery. His first vineyard being the horse paddock of the presbytery. Later planting a vineyard at the foot of Mt Marley. He is referred to as ' Father of the Fruit Industry '.
Italian Influx
After both world wars there was an influx of mainly Italian immigrants to the region many taking up land that Soldier settlers had abandoned. Some of them working and or farming on orchards and table grape vineyards. Local growers then making and providing bulk wine from excess ripe grapes to supply to their family and friends in the northern Queensland cane fields. A few vineyards today can trace their history back to this time with Bungawarra (Angelo Barbagallo 1920's), Ballandean Estate (Salvatore Cardillo 1930) and Rumbalara (1928) all being established on older table grape vineyards.
Table Grapes
The region had a thriving table grape industry for many years with stone fruit and table grapes being grown side by side on the same farm. The main varieties being muscat hamburg, waltham cross and purple cornichen. Around the mid 1950's there was over 2000 acres of table grapes grown in the district. This proved to be a very good indicator for wine grape suitability.
Modern Winemaking Era
In the mid 1960's the Ricca family planted the first Shiraz grapes in the southern Granite Belt. This was followed in the late 1960's and early seventies with wine-grape vineyards and modern wineries being established by the Zanatta (Biltmore Cellars), Puglisi (Angelo's) and Robinson (Robinson Family Vineyards) families followed a few years later by Bob and Una Grey (Rumbalara) and Alan Door and Philip Christensen (Bungawarra).
In 1970 Doctor Bryce Rankine visited the region and encouraged the local winemakers to adapt modern technology and in 1974/75 the QDPI imported over 140 thousand cuttings from more than 25 different wine grape cultivars and clones.
In 1975 both Angelo Puglisi and John Robinson won Gold Medals at the Brisbane Royal Show signaling a promising start to modern winemaking in the region.
By 1993 there were over 20 wineries in the district and today over sixty different producers of wine from grapes as diverse as Albarino to Saperavi and everything in between.
The Wine Show
The Stanthorpe wine show ran from 1970-1987 for wine produced in Queensland. In 1988 the Stanthorpe Wine show was replaced with the Australian Small Winemakers Show and now attracts wine entries from all over Australia and New Zealand. With a who's who of National wine show judges right from the beginning in 1987-88.
A TALE OF TWO FAMILIES
The Puglisi Family, Ballandean Estate
The Puglisi family tradition of wine-making dates back to 1930 when Salvatore Cardillo, an Italian immigrant, made wine from table grapes grown on his farm. His son-in-law, Alfio Puglisi, took the baton from him before passing it to son Angelo and his wife, Mary. The couple saw the potential for a new industry in the area, planted wine grapes and started making wine commercially. Ballandean Estate Wines is now one of the region's leading wineries.
Ballandean Estate is Queensland's oldest operating winery.
The fourth generation now has the management reins at Ballandean Estate, as Angelo and Mary's daughters, Leeanne Gangemi and Robyn Henderson operate the business and since 2022 Leeanne's son Steven joined the crew, making this the fifth generation of the family in the grape business.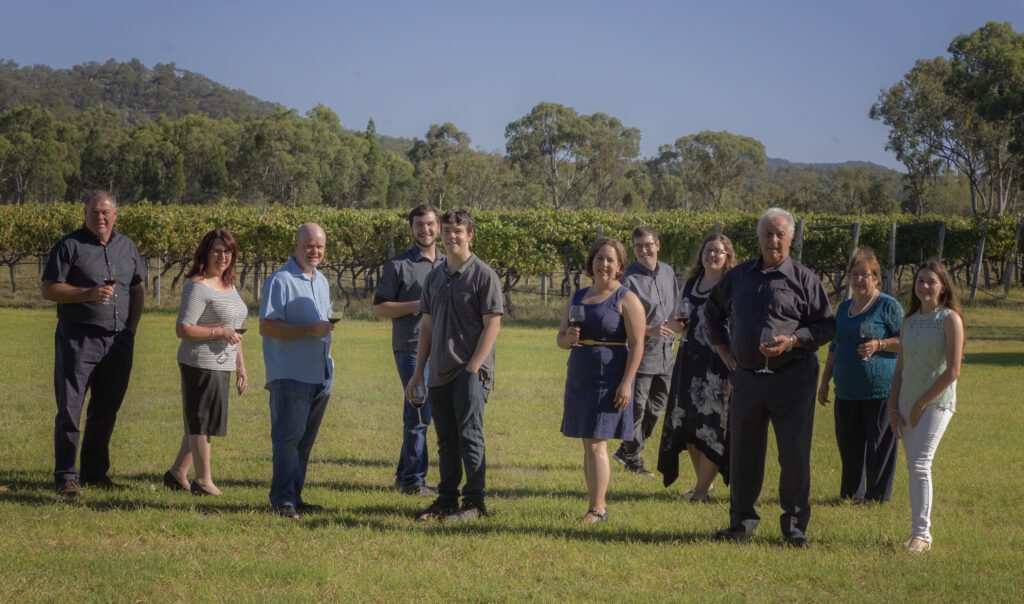 The Costanzo Family, Golden Grove Estate
Sicilian immigrant, Salvatore Patti, also made wine from his surplus table grapes. His daughter Nita and husband Mario Costanzo continued this practice. When their second son, Sam, with wife Grace, purchased the family property, now known as Golden Grove Estate, in the mid 1980s, they gradually replaced table grapes with wine grapes.
Now their sons Raymond and Jason have taken up the reins. Raymond studied winemaking at university, graduatinc with a B. App Science, then worked in a number of important wine recions, including Washington State in the USA, before returning home and taking over as winemaker. Jason became a qualified chef and caters for functions.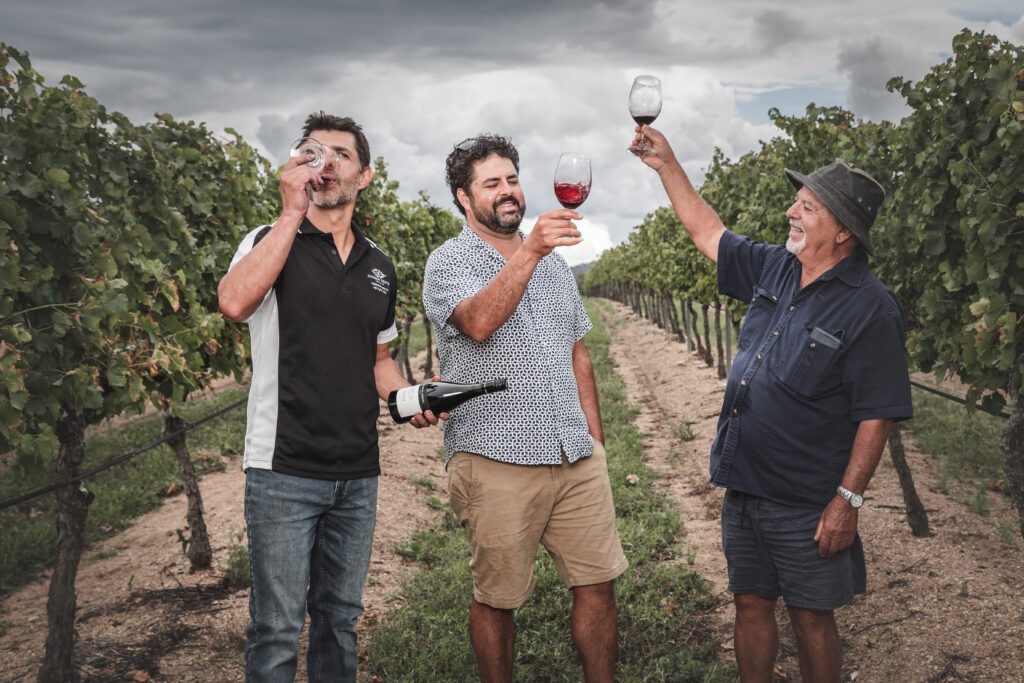 The Father of the Queensland Wine Industry
Angelo Puglisi is the founder of Queensland's wine industry and the son of a hardworking and passionate Italian family. He has spent his entire life on Ballandean Estate, and over the past 80 years his family business has been at the forefront of developing and promoting the Queensland Wine Industry. …MORE ABOUT ANGELO & MARY PUGLISI'S STORY