Guide to Girraween National Park
With massive granite outcrops, perfectly balanced boulders and wildflowers that bloom in spring, it's no surprise that the dramatic formations of Girraween National Park are a must-see while in Granite Belt Wine Country.
---
Read on to find out how to work up a fresh appetite at one of Queensland's most loved national parks.
Where is Girraween National Park?
On the Queensland–New South Wales border, Girraween National Park is 35 kilometres south of Stanthorpe in Granite Belt Wine Country.
Brisbane to Girraween National Park: 3hrs 10mins; 256kms
Gold Coast to Girraween National Park: 3hrs 40mins; 275kms
Toowoomba to Girraween National Park: 2hrs 15mins; 180kms
How to get there
Sprawling across 117 square kilometres, you'll first need to choose your adventure to decide on your starting point at Girraween National Park.

Bald Rock Creek day-use area
For the majority of the walking tracks, make your way to the Bald Rock Creek Day use-area and Visitor Information Centre. Follow the New England Highway south from Stanthorpe for 26km or north from Tenterfield for 30km. Turnoff to Pyramids Roads and follow the winding bitumen road for 9kms leading you there.
Dr Roberts Car Park
To access the eastern walking tracks, follow directions to the Bald Rock Creek day use area. Once reaching the visitor information centre, continue a further 4km north-east along the all-weather 2WD accessible road to Dr Roberts Car Park. Alternatively, from Stanthorpe, travel along the Eukey Road via Storm King Dam, taking Parrish Lane to Pyramids Road leading you to the car park.
Mount Norman day-use area
Alternatively, seek adventure in the park's southern section by travelling 37kms south from Stanthorpe or 18kms north from Tenterfield to Wallangarra before taking Mount Norman Road for 8kms to the Mount Norman day-use area.
Find the Girraween Park Map here:
Click Map to View in larger PDF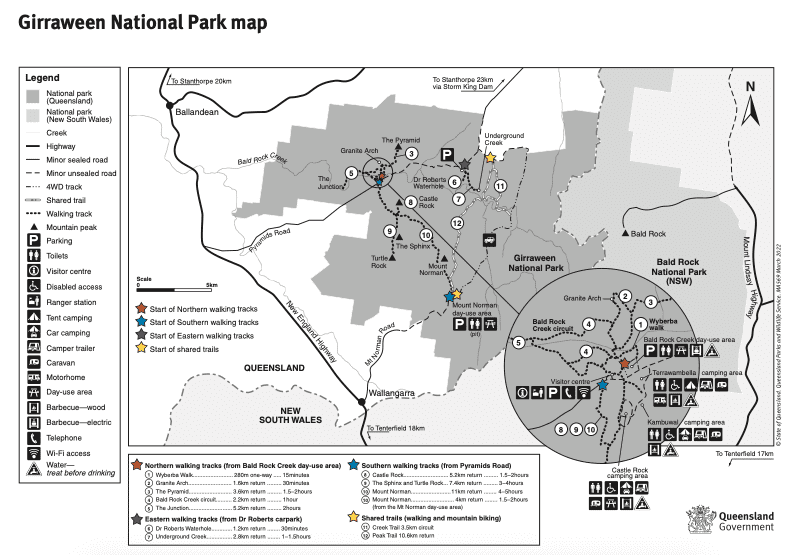 What to do
Walking / Hiking
The most popular track is the literally breath-taking Pyramid Track taking you to the famed Balancing Rock).
Most walks start near the Visitor Information Centre and day-use areas, except where indicated.
Easy and shorter walks
From Bald Rock Creek day-use area
Wyberba Walk: 280m one way, allow 15 minutes.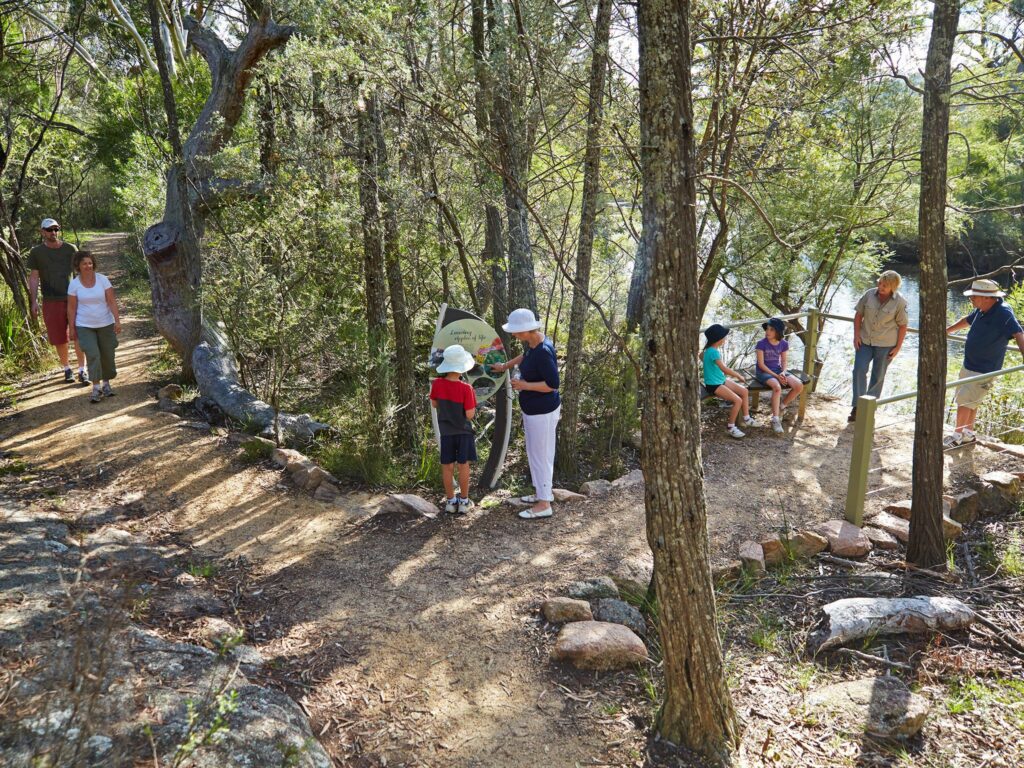 Granite Arch: 1.6kms, allow 30 minutes.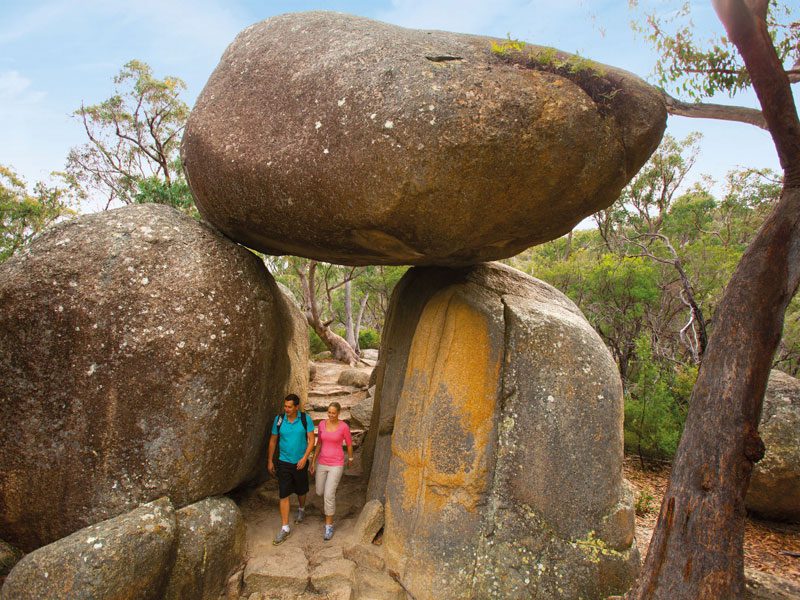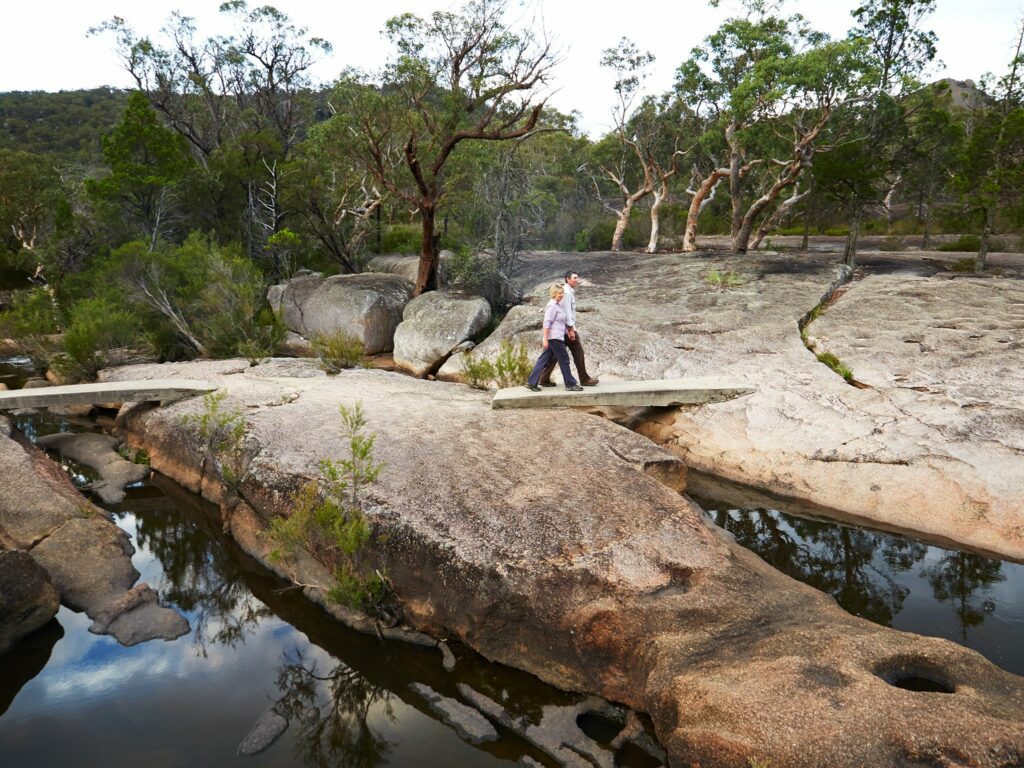 Bald Rock Creek Circuit: 2.2kms, allow 1 hour.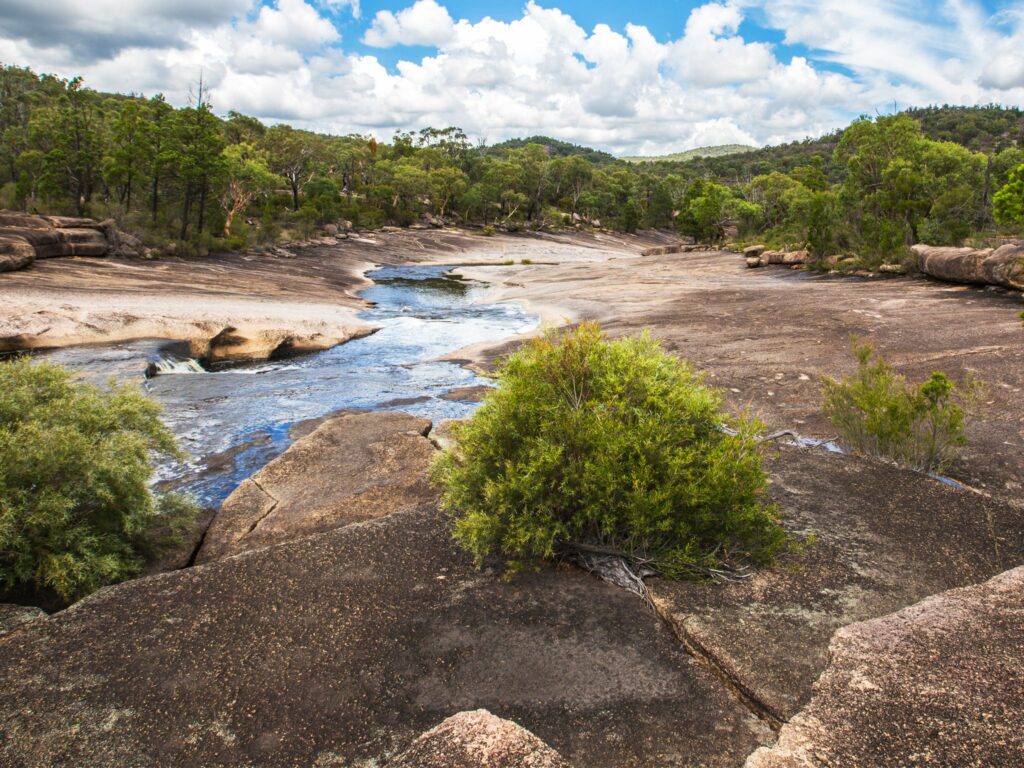 The Junction: 5.2km, allow 2 hours.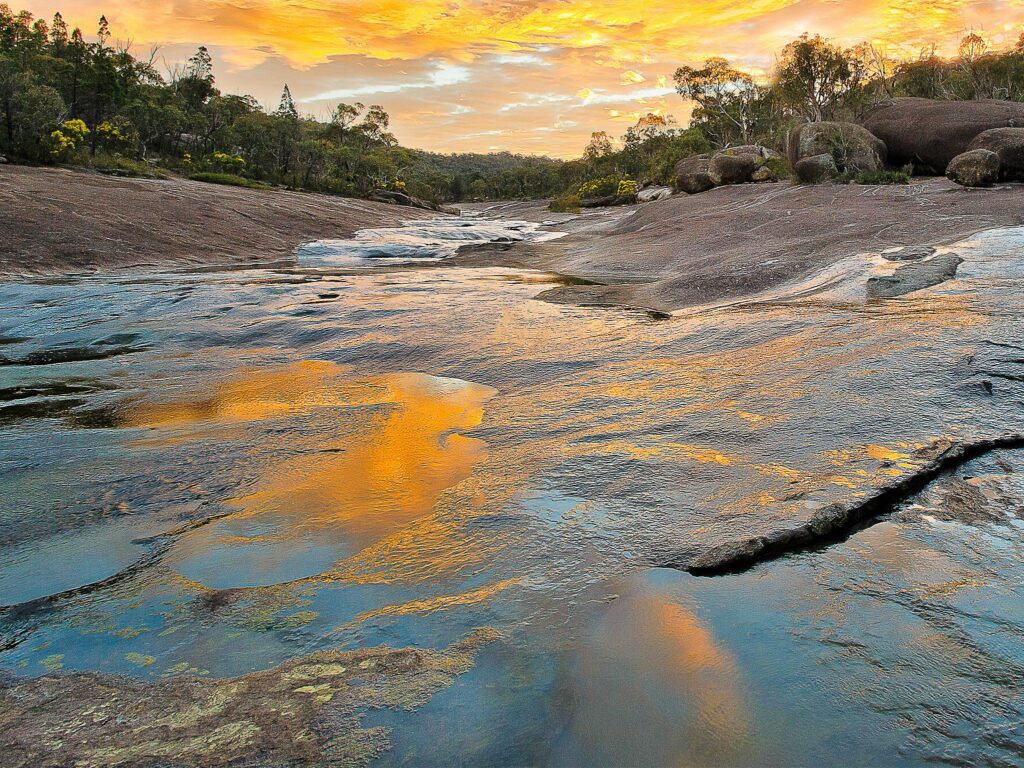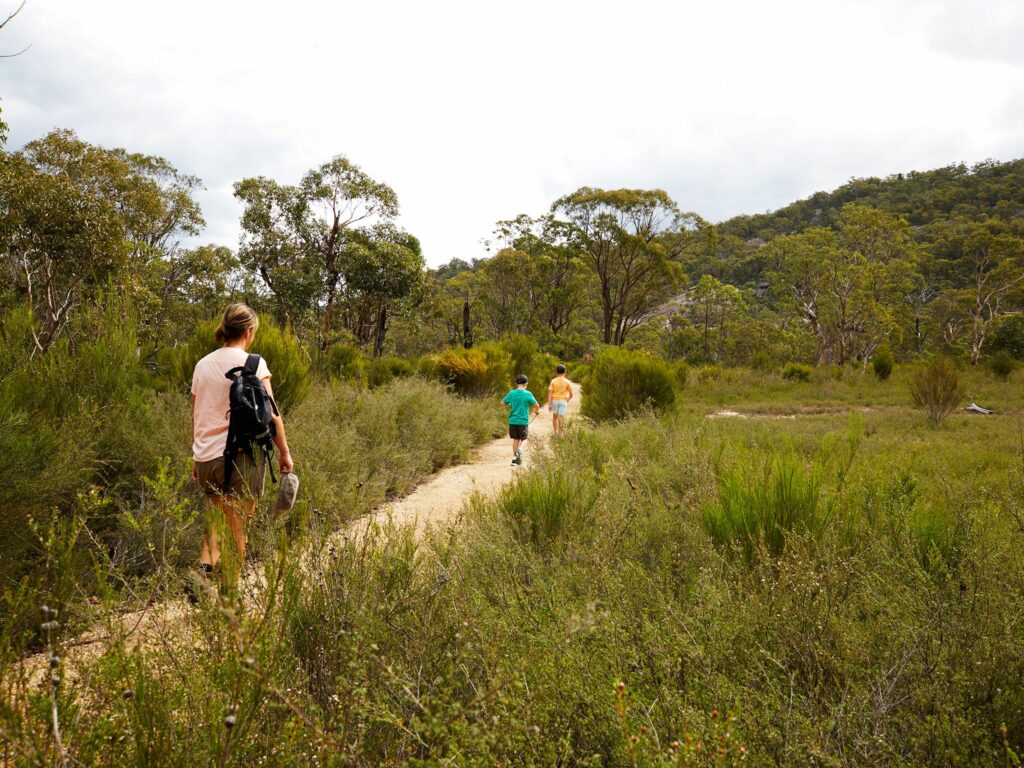 From Dr Roberts Car Park
Dr Roberts Waterhole: 1.2kms, allow 30 minutes.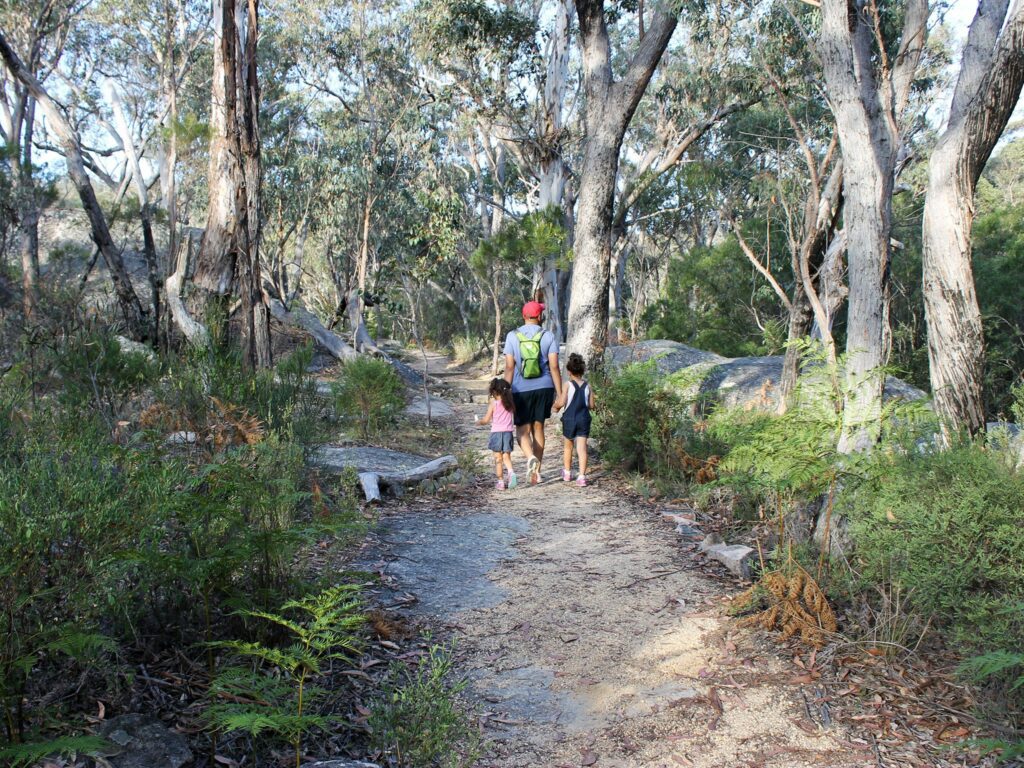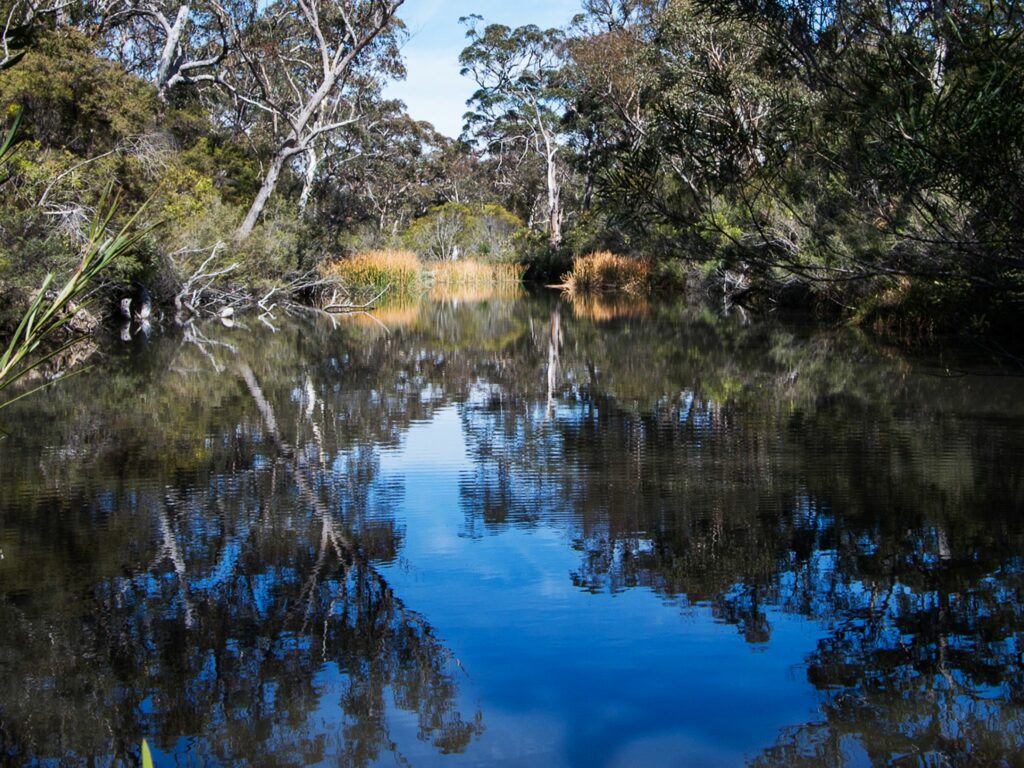 Underground Creek Track: 2.8km return, allow 1-1.5 hours.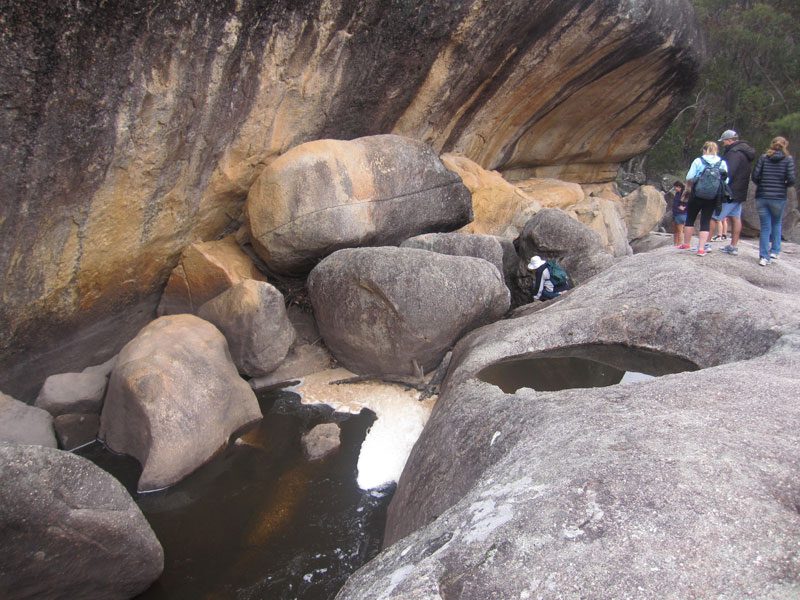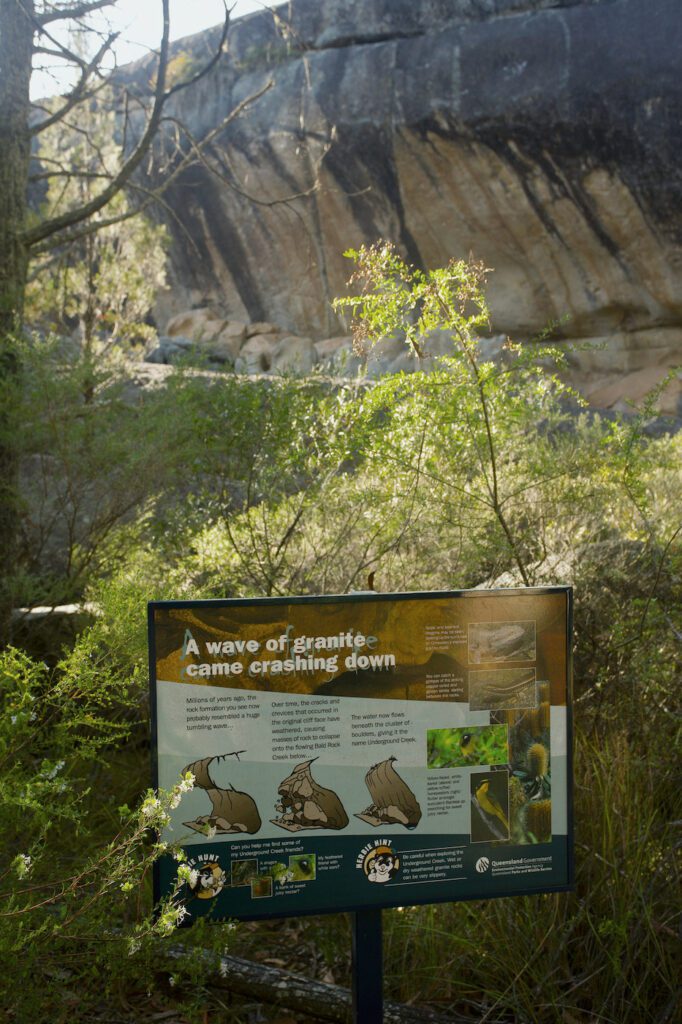 Creek Trail: 3.5km return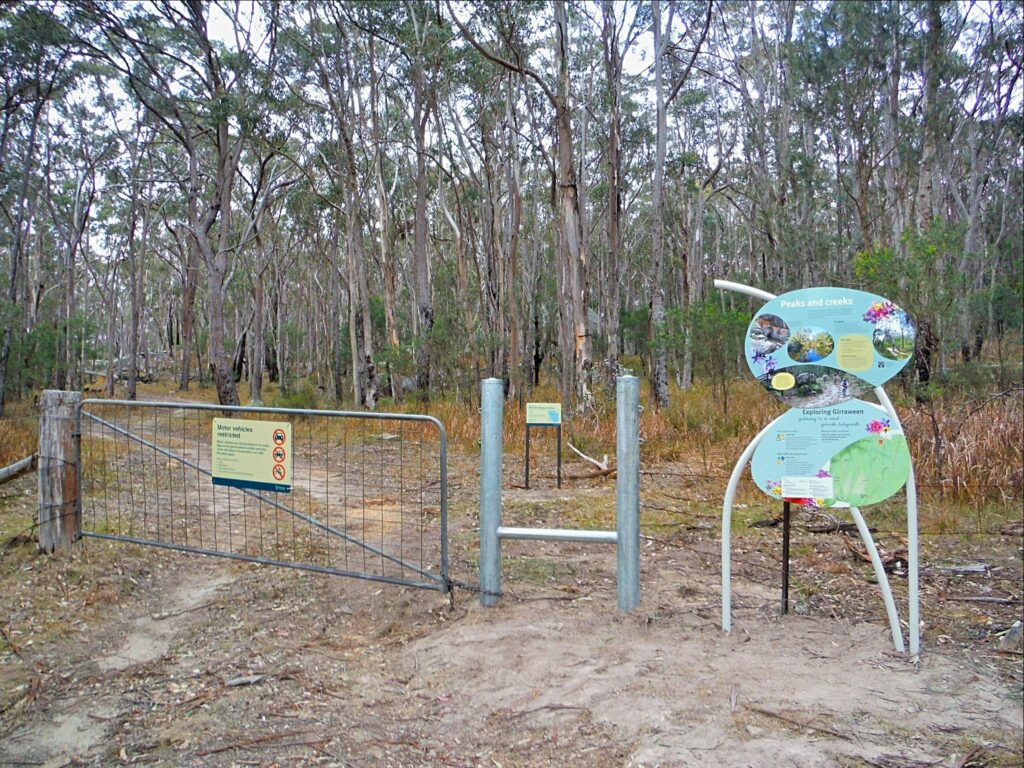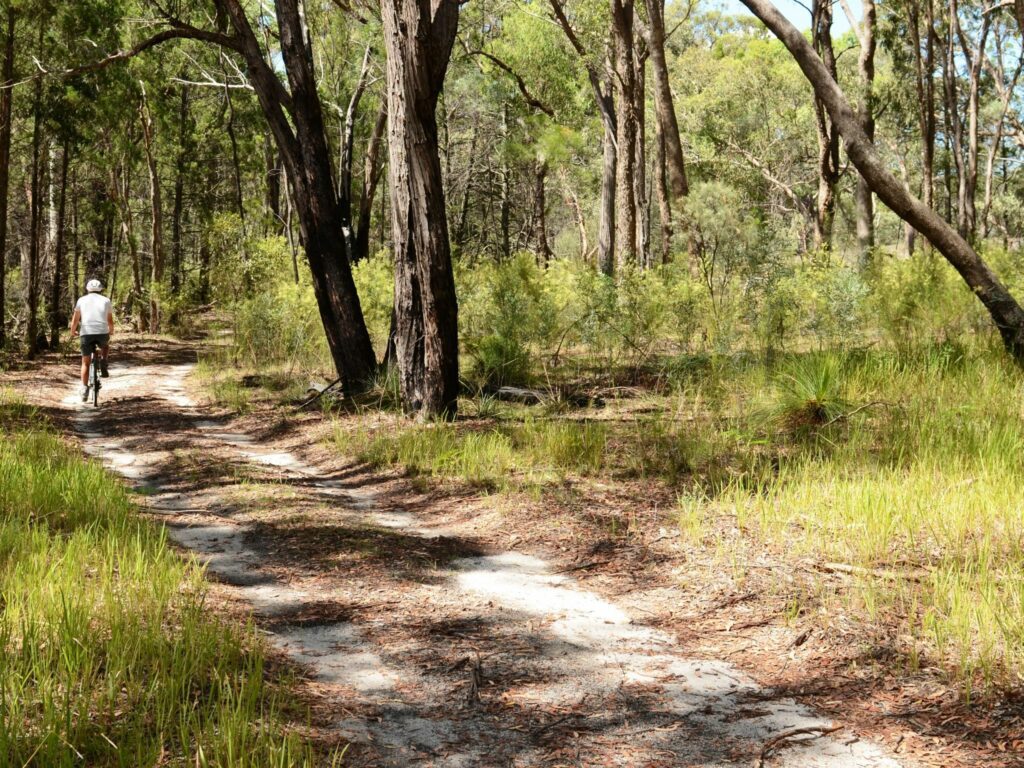 Longer and challenging walks
Bring your sense of adventure and be prepared for a bit of rock scrambling.
From Bald Rock Creek day-use area
The Pyramid: 3.6km return, allow 1.5-2hours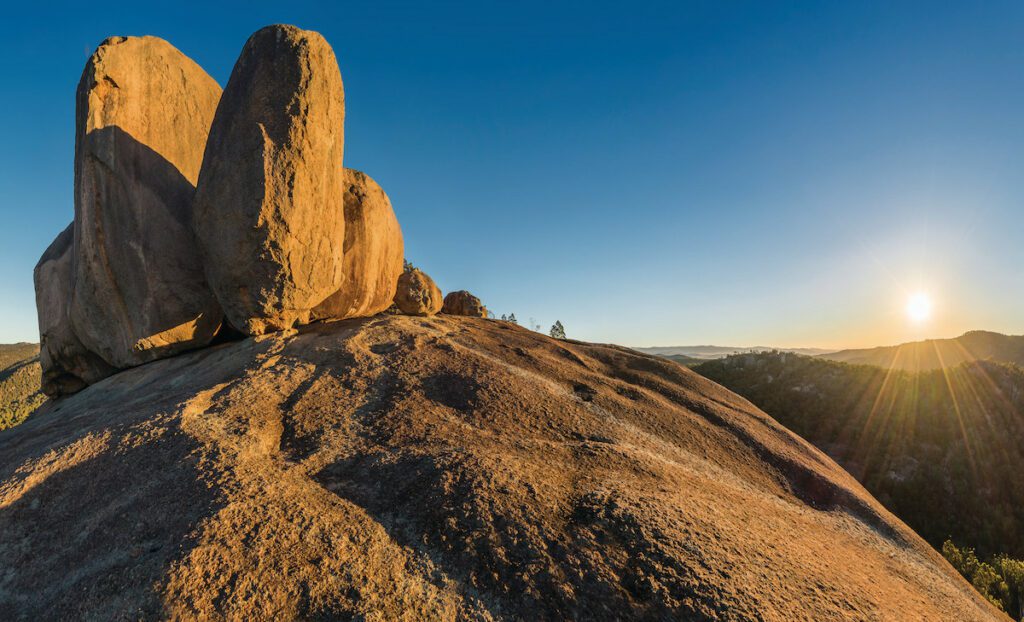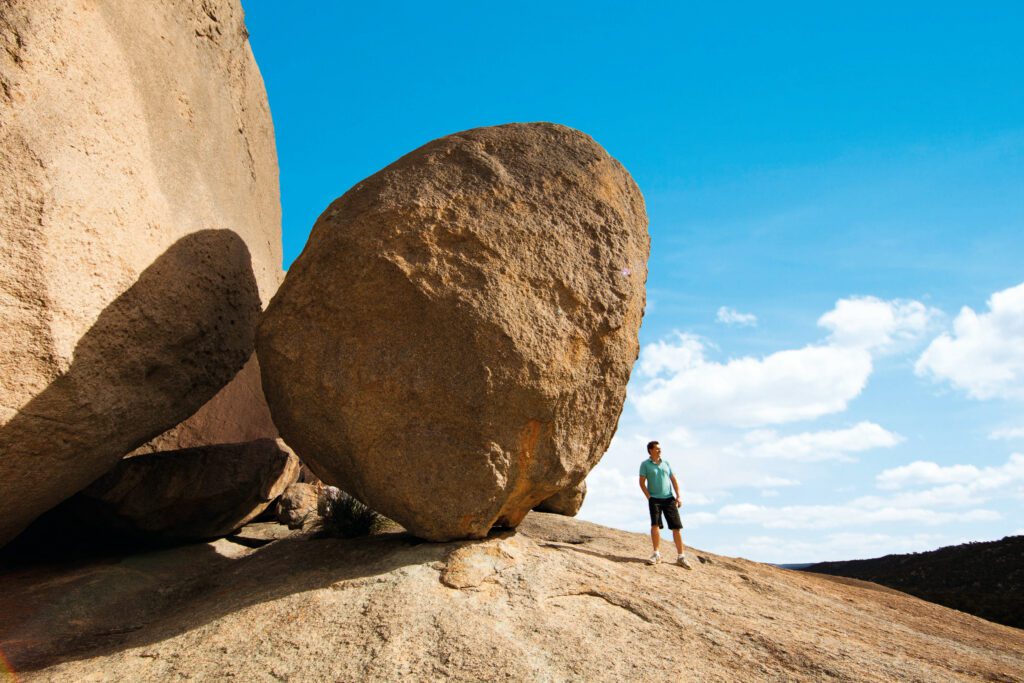 From Pyramids Road
The Sphinx and Turtle Rock: 7.4km return, allow 3-4hours.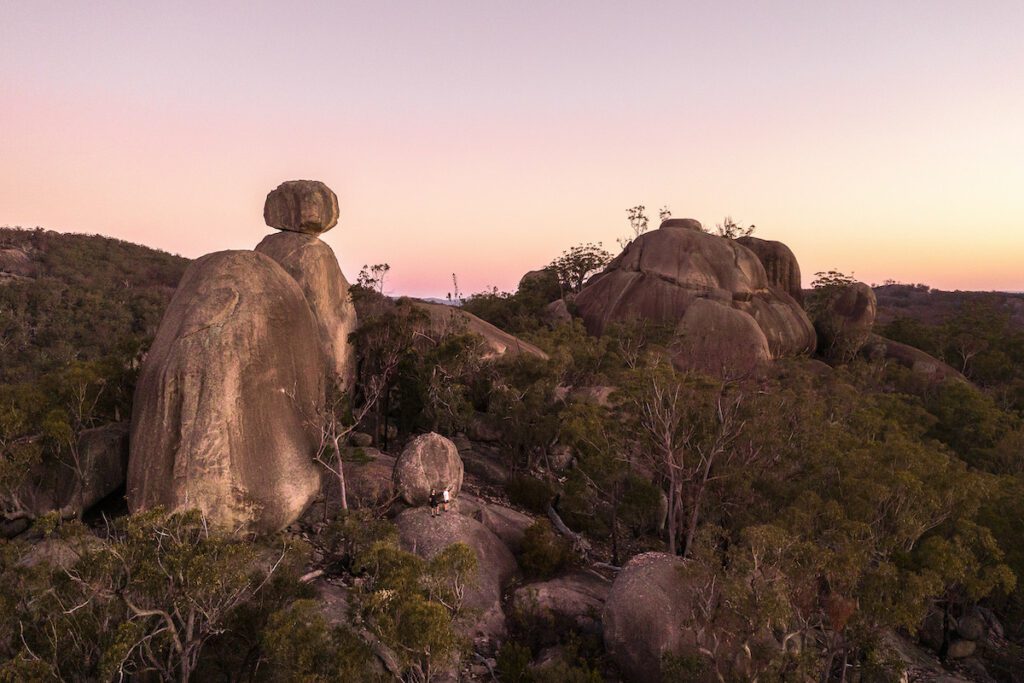 Castle Rock: 5.2kms, allow 1.5-2 hours.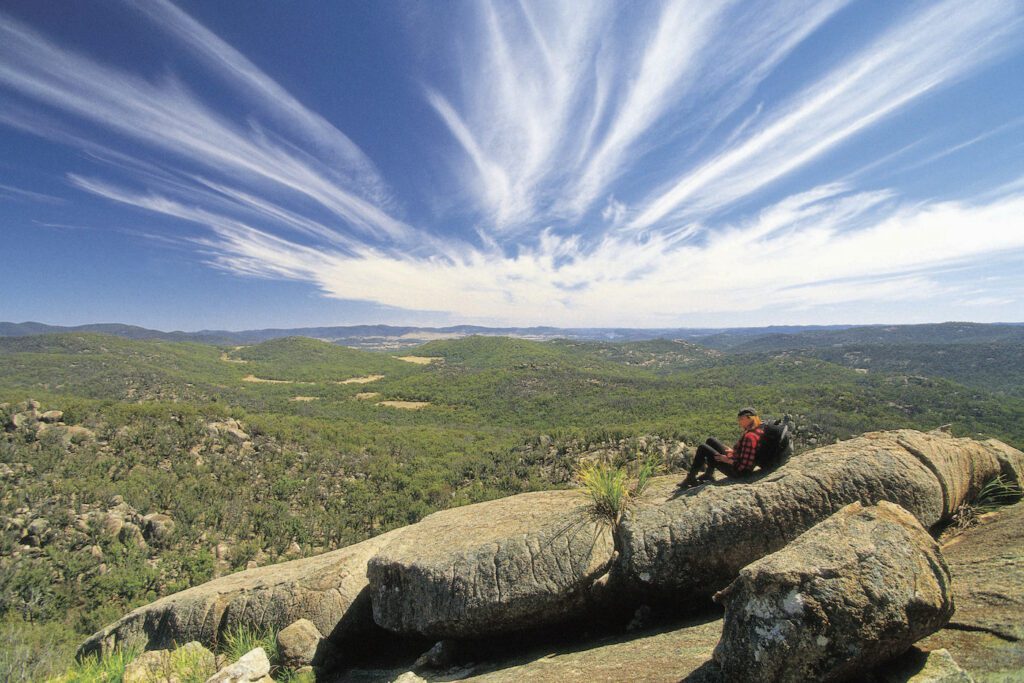 Mount Norman: 11kms allow 4-5 hours.
From Mount Norman day use area
Mount Norman: 4km, allow 1.5-3 hours.
Peak Trail: 10.6km return, allow 2 hours.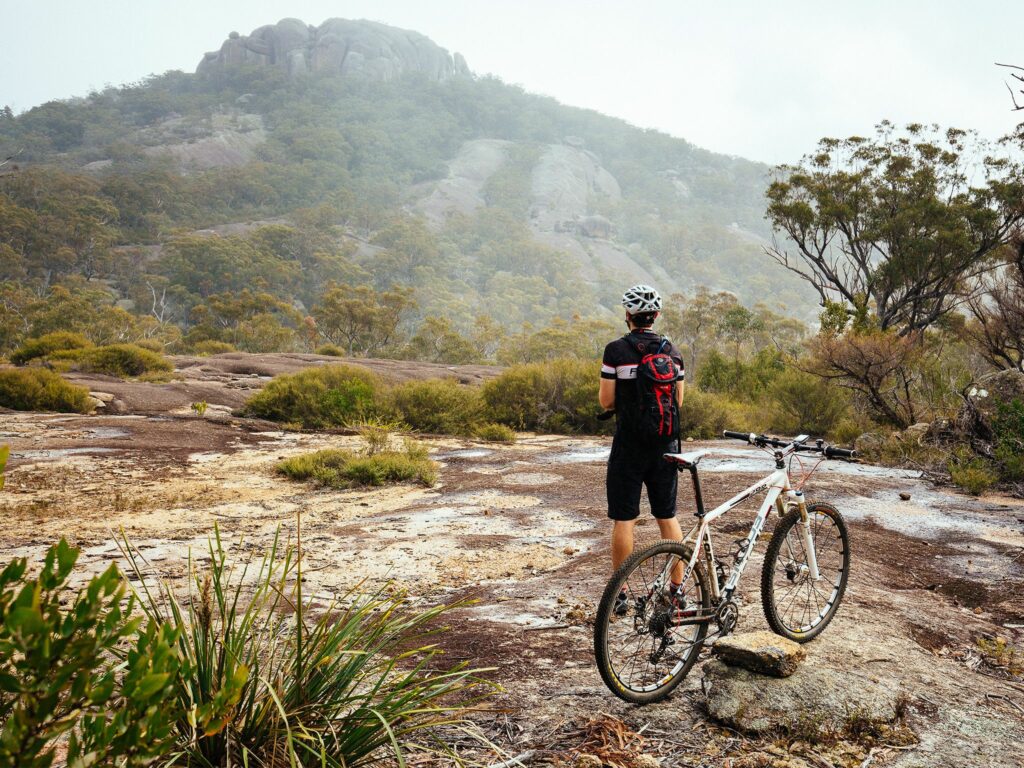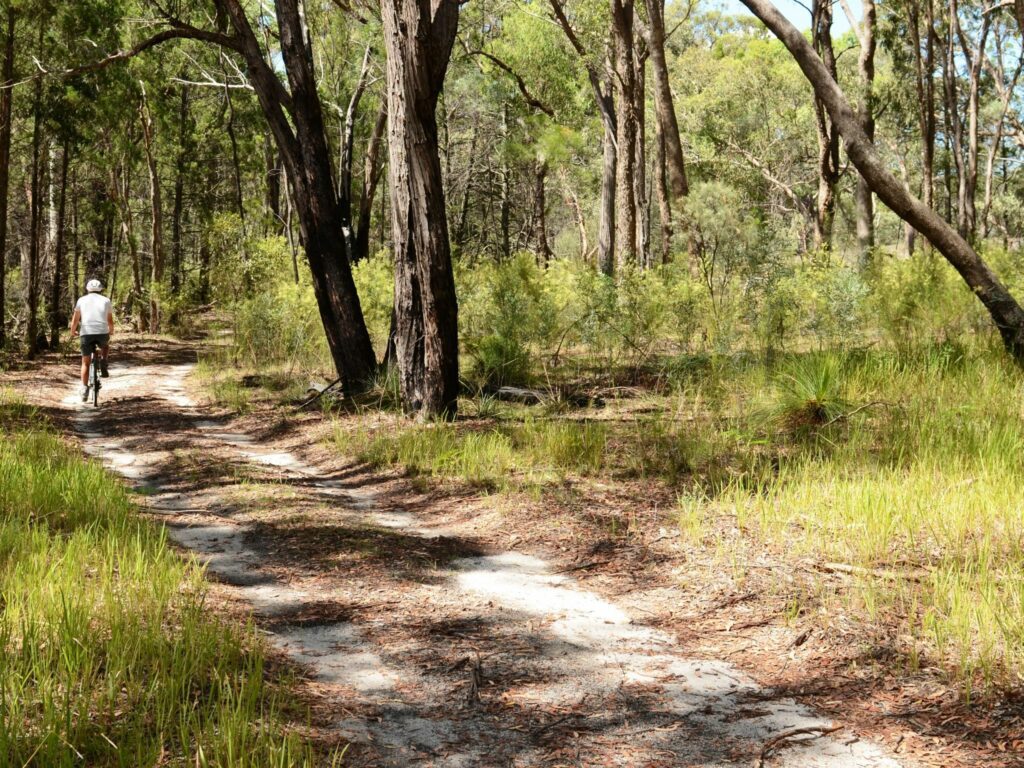 If you've got some serious experience under your belt with navigation skills in your pocket, find further remote tracks from the extensive fire trail network.
If you plan on visiting during rainy and windy conditions, take caution, granite rocks become extremely slippery when wet.
Cycling
Grab your mountain bike (or off-road bike) and take on Girraween on two wheels to explore the remote areas. Please note these trails are shared with walkers too.
Access via Mount Norman Road or Pyramids Road.
Creek Trail: Easy 3.5km, allow 30 minutes – Well defined track, fit for the whole family.
Peak Tail: 10.6km return – 1hr ride
Want to ride longer? Combine the two trails!
Looking for more adventures on two wheels? Check out these. Check out Mt Marlay Mountain Bike Trails in Stanthorpe.
Rock Climbing & Bouldering
The Granite Belt is a rock climbers' playground, offering some of the finest granite climbing south-east Queensland has to offer.
To find routes, click here: https://www.thecrag.com/en/climbing/australia/girraween
Guided Tours
To really understand the beauty of Girraween, walk alongside a local expert on a guided tour.
Local one-woman show, Wild Cat Tracks takes small groups and individual tours of the Granite Belt uncovering the hidden secrets with hand-picked experiences for you.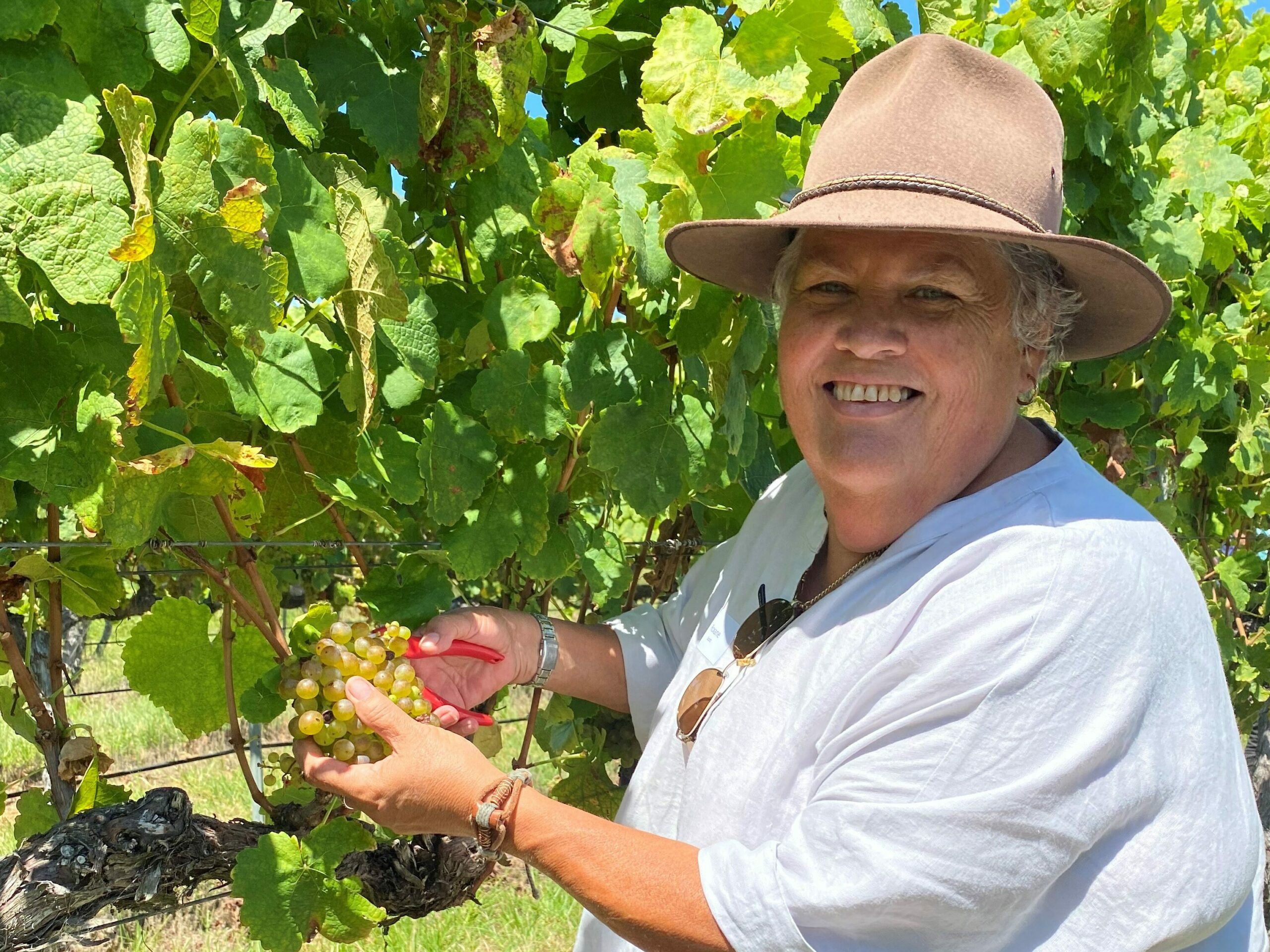 Wildlife to spot
If you're here to see the wildlife, we can guarantee you'll experience a close encounter with the locals.
The park is home 22 mammal species where red-necked wallabies, brush-tailed possums and spiny echidnas weave their way through the wonders of the woodland.
At dawn and dusk, you will often be greeted by eastern grey kangaroos and wallabies, before spotted quolls emerge at night from their safe dens amongst the rocks.
Get lucky and you'll spot a common wombat, Australia's most northern population of them live here.
Girraween supports the permanent populations of over 150 bird species. Look for brilliant turquoise parrots, yellow-tufted honeyeaters and superb fairy-wrens or listen out for the cry of Superb lyrebirds on a cool winter day.
Look into the waterholes of Bald Rock Creek for turtles and crayfish.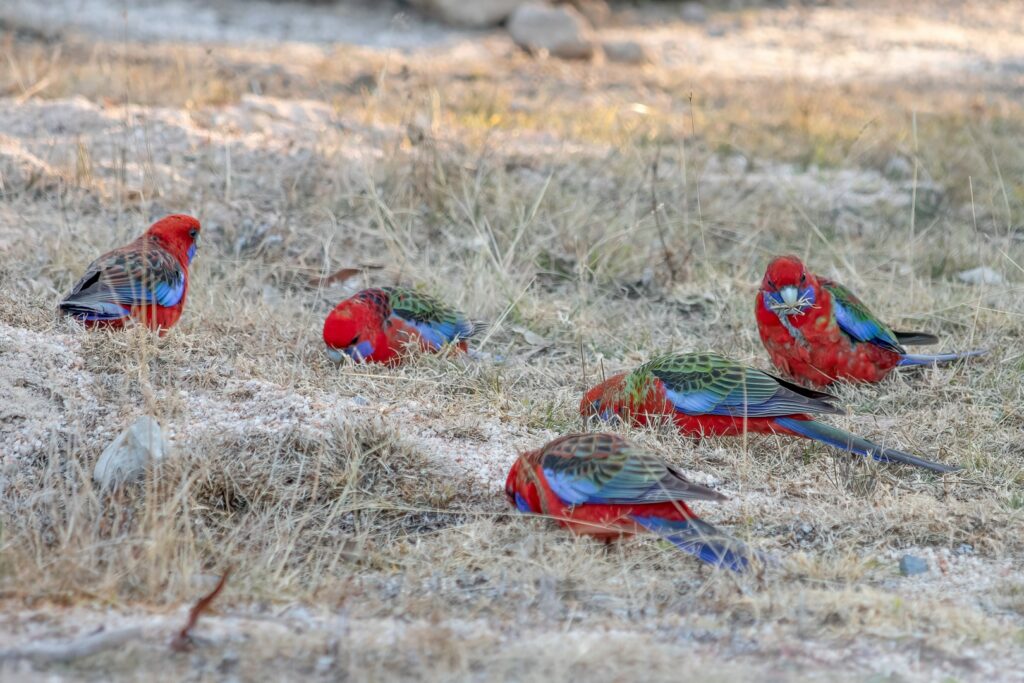 Best time of year to visit
Girraween National Park is open year-round. Spring and summer are the best time of year to explore Girraween.
Summer days are warm (25–30°C) with cool nights averaging 15°C.
Winter nights can reach -8°C but are on average a minimum of -4°C.
Girraween, meaning 'place of flowers' lives up to its name in spring. Wildflowers begin to bloom in late July with golden wattle brightening the bush canopy. September and October are considered the most spectacular months where you'll find displays of bold pea flowers that splash colour against the granite. Flannel flowers and orchids flower through the summer months.
If you're planning a winter trip, you'll experience crisp air, blue skies and maybe even a dusting of snow.
Where to stay
Camping
Wake up amongst the boulders at the million-star rated camping sites.
Whether you're going solo, have a swag full of friends and family coming or are in need of an accessible site, you've got plenty to choose from here.
Set up your tent, camper trailer or caravan at the Castle Rock, Kambuwal or Terrawambella camping areas. There are no powered sites here, so you'll be in for a serious tech-free break.
Note: Generators are not permitted.
For those that want to really take in Girraween's beauty that's been formed by powerful acts of nature over 225 million years, hike your way to one of the park's various remote bush camps. BYO tent, supplies and navigation skills.
Camping fees apply, book National Park camping online before you arrive here: https://qpws.usedirect.com/qpws/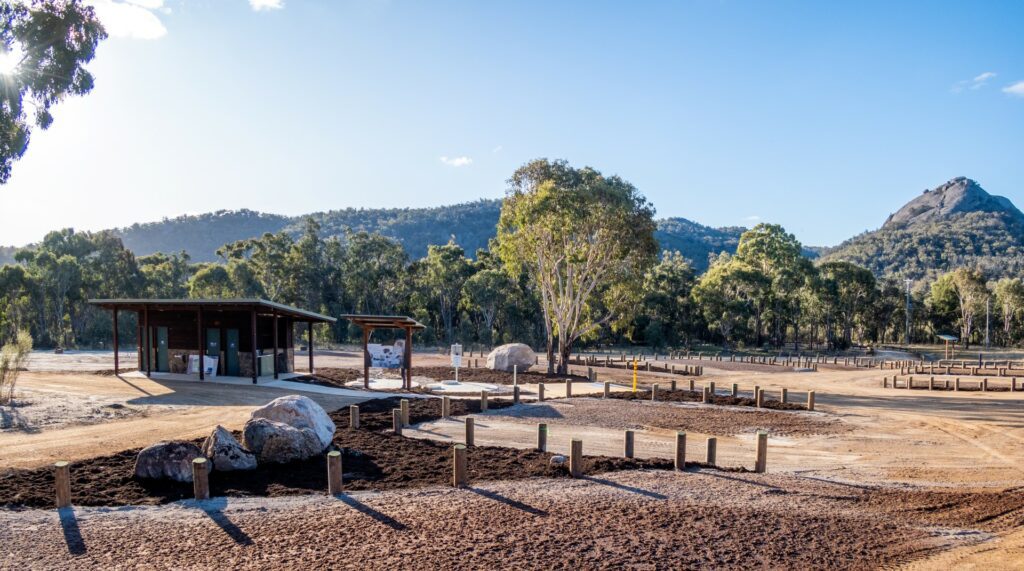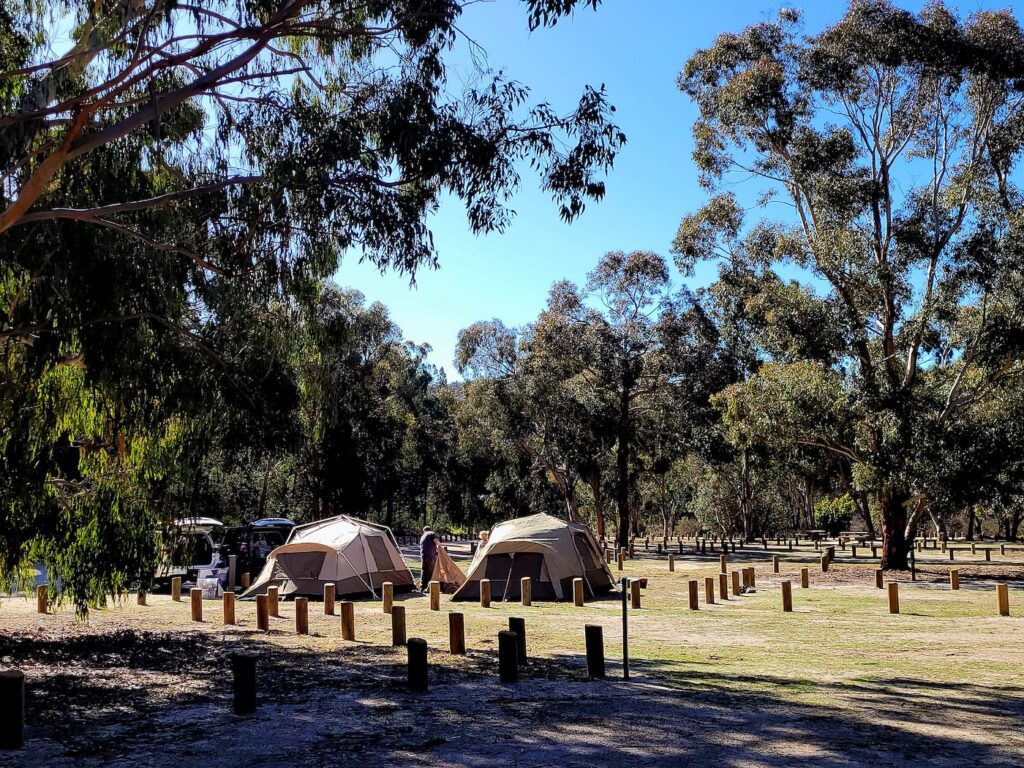 Find nearby accommodation
If you're looking for extra comforts… there's cabins, cottages and vineyard stays all within a short drive away. Find your perfect stay here.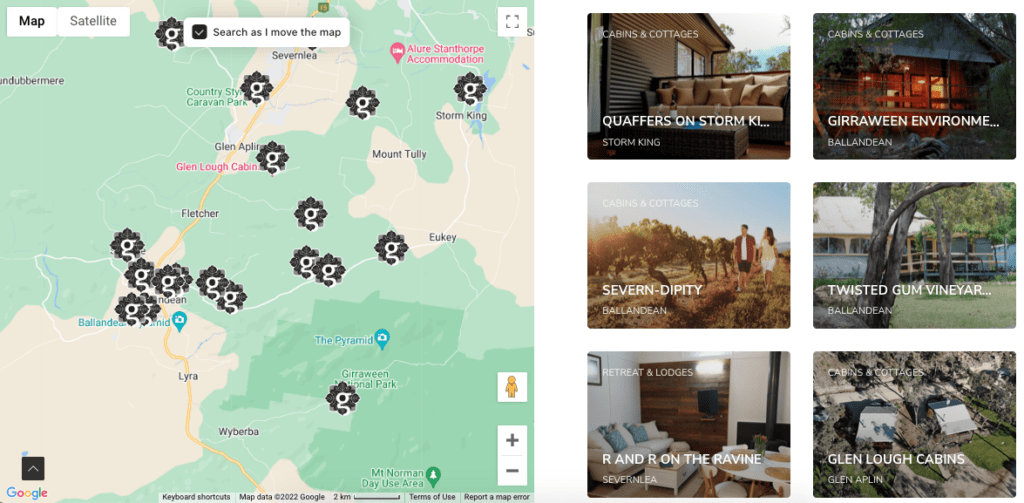 What to bring
Add these to your essential packing list.
Drinking water, no drinking water is available at Girraween.
Sturdy footwear.
Warm clothing, be prepared for cold changes in the weather at all times.
Food supplies if camping, your closest supplies are in Stanthorpe, Tenterfield, Ballandean and Wallangarra.
Day trippers, make the most of your time by packing a picnic of local gourmet treats!
Park Information Centre
Drop in to the Information Centre located at the Bald Rock Creek Day Use Area. There are informative displays about the National Park inside and of course friendly rangers to chat with.
The Information Centre is open 7 days, except at times when the rangers are required to be out in the park.
Want to continue exploring the great outdoors?
Step foot into these nearby national parks.
Sundown National Park is an adventure junkie's paradise with steep-sided gorges, ridges and peaks rising more than 1,000,

Bald Rock National Park hop over to the NSW boarder to find Australia's largest granite monolith, found within a series of granite domes, waiting for you to explore.
---