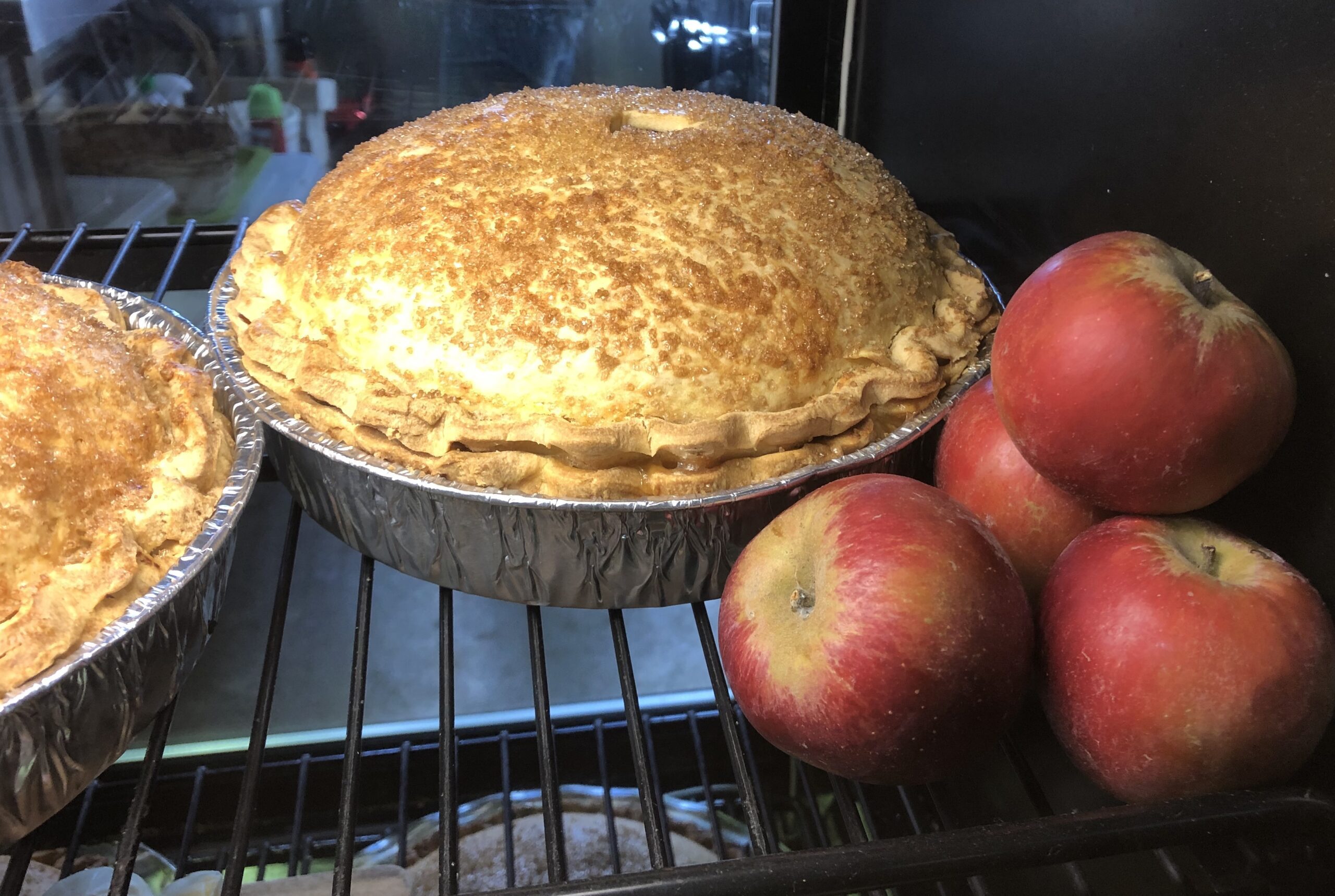 Stanthorpe is Queensland's apple country – where ALL of the state's apple crop is grown. So it makes sense that it's here travellers flock to taste what is widely said to be the 'best apple pies ever'.
Just north of Stanthorpe, Sutton's Juice Factory, Cidery & Cafe invites visitors to indulge in apple pies, apple juices and more… all made right there on the apple farm.
What Makes these Pies so Special?
Ros Sutton is the 'Queen of the Apple Pie' and though she is very humble about it, this award-winning CWA cook and her apple pies have become a Stanthorpe icon. Each pie is made from scratch right there in the farm factory kitchen where around 24 apples are packed in to each pie!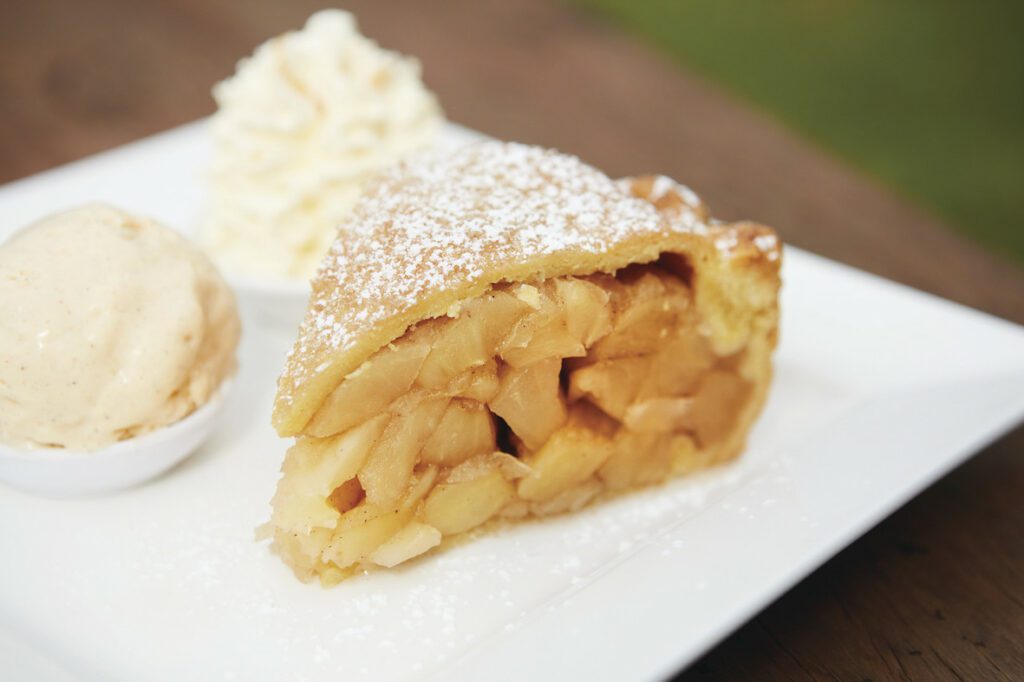 The pie slices are served with a side of cream and spiced apple cider ice cream (their own special recipe). The apple pies are available to purchase as whole pies or as slices for takeaway.
What to Know About Visiting
When you arrive on Ros and Dave Sutton's farm you'll first spot the apple orchard right opposite the parking area. While the orchard is not open for walking through, you're invited to find your way inside the rustic Shed Cafe and through to the outdoor picnic table dining area behind it. If you're travelling with a dog there's a lovely shady spot to leave your pooch next to the cafe entrance.
Inside find a tasting bar for tasting apple juices, vinegars and more… lots of products, all made from Granite Belt produce. Morning tea and afternoon tea menu options range beyond the apple pies to more home baked delicious items, plus a lunch menu with home-style options such as quiches, homemade sausage rolls and pumpkin soups with savoury scones – yum! Inside the cafe there is a viewing window to see into the juice factory room, where you can view whatever squeezing or bottling may be occurring that day.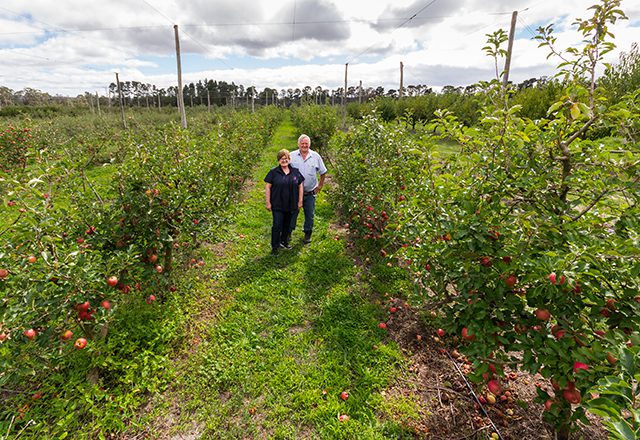 Visiting the Farm Cafe
Sutton's Juice Factory, Cidery & Cafe is open 7 days, 9.30am to 4.30pm.
Find it 13kms north of Stanthorpe on the New England Highway. Just look for the 'Big Apple' (of course!) and turn off the highway the opposite direction, to 10 Halloran Drive Thulimbah.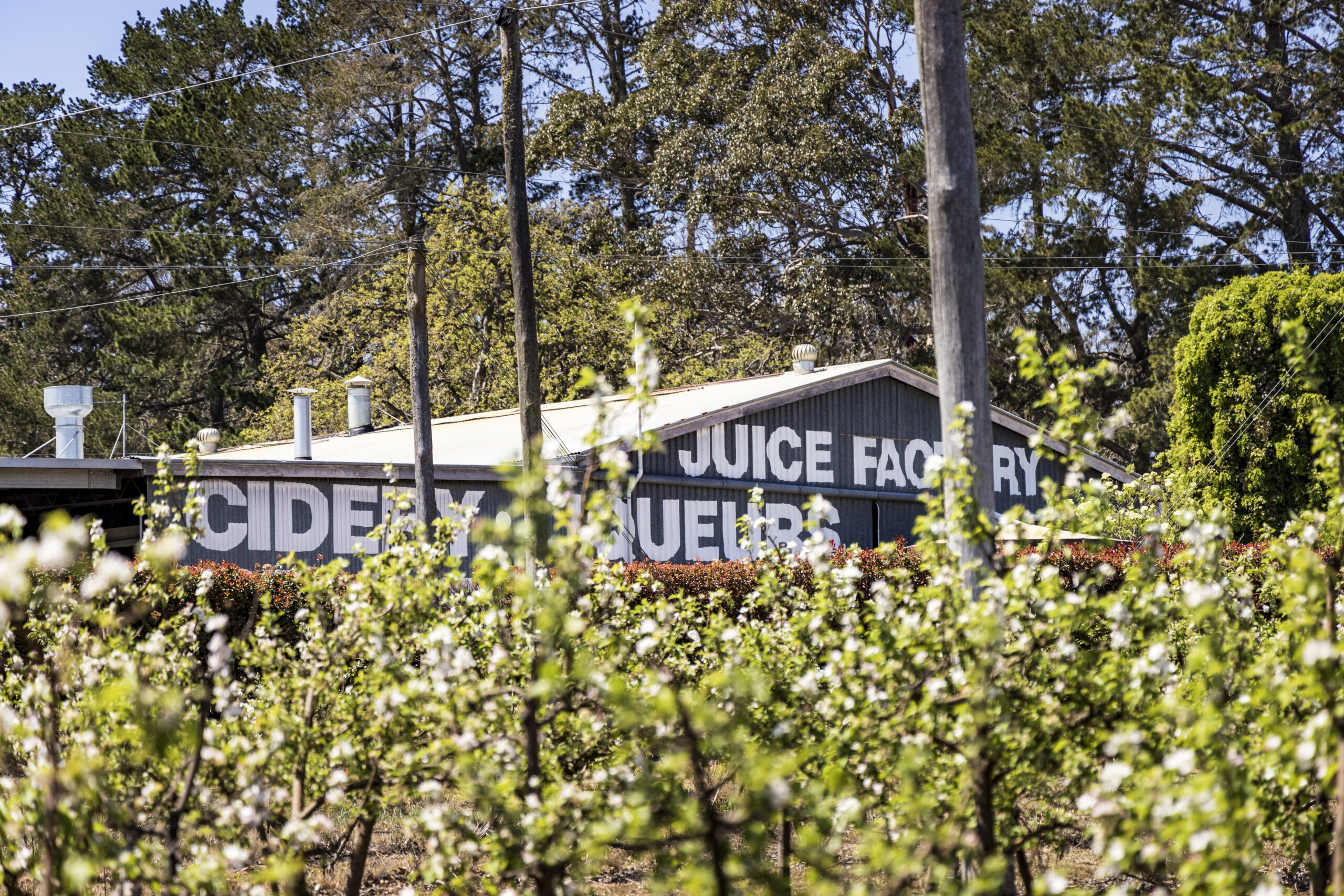 Photo credit: Louise Wright | Southern Qld Country Tourism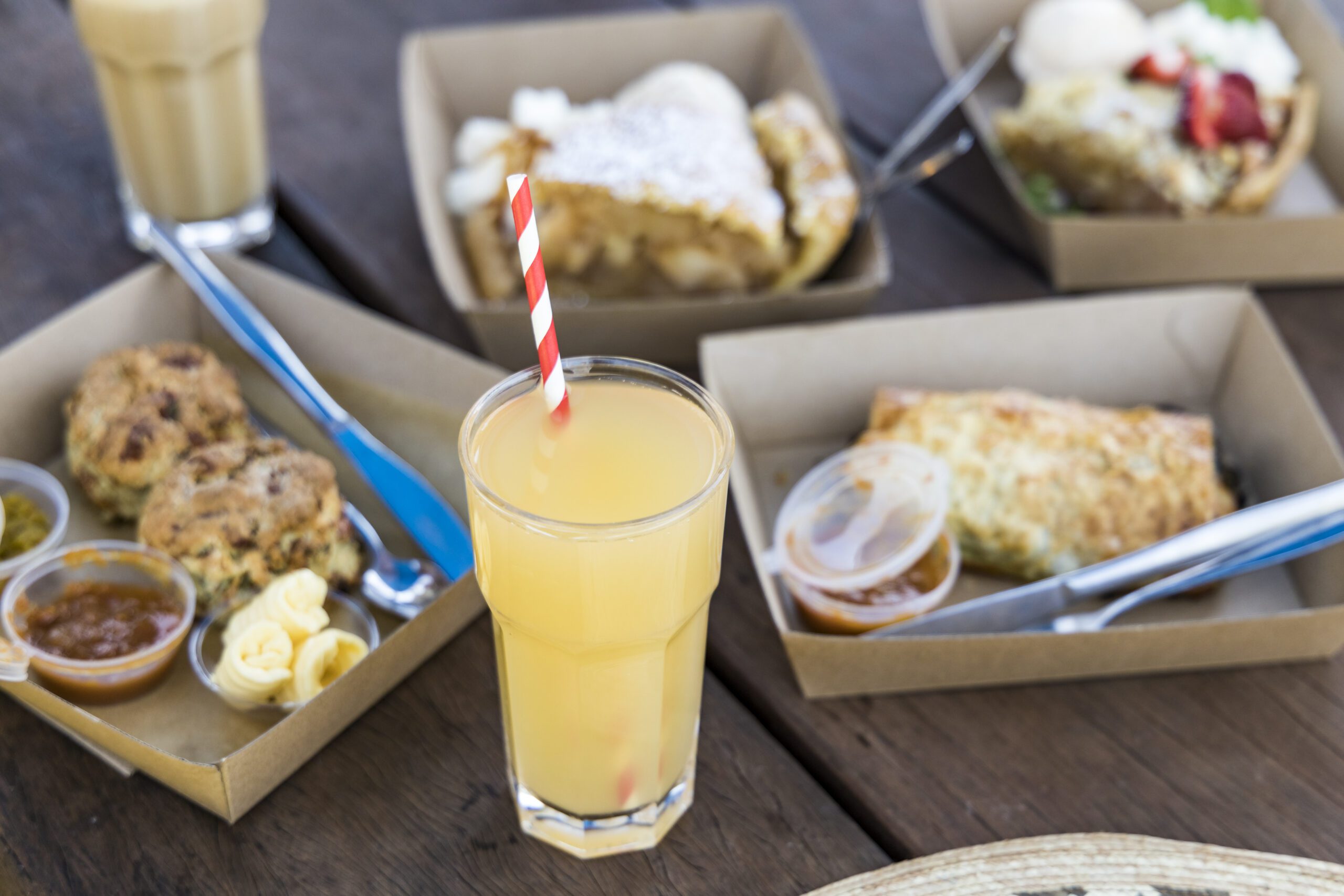 Photo credit: Louise Wright | Southern Qld Country Tourism
If you loved Suttons, check out Jamworks!
For more cafe meals and amazing preserves, head south of Stanthorpe to Jamworks Gourmet Foods Cafe & Larder. Jamworks are close partners with the local Granite Belt farmers, purchasing the fruits and vegetables that are in season to produce their 80+ selection of jams, relishes, sauces, etc! Browse their stylish larder and better yet, taste the preserves on the cafe menu – each item on the menu features a 'hero' Jamworks preserve.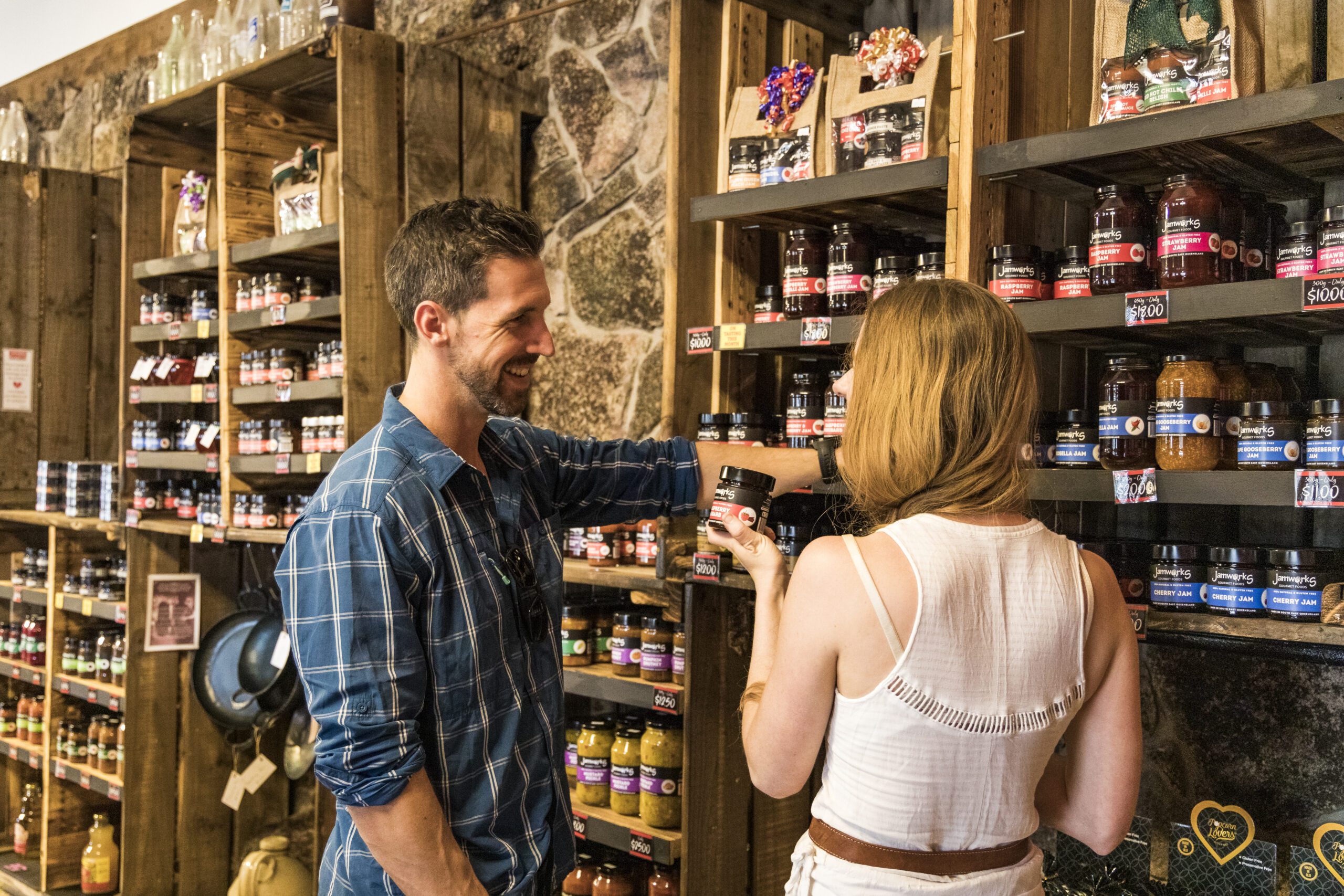 Jamworks Gourmet Foods Cafe & Larder photo credit: Louise Wright | Southern Qld Country Tourism
Across the Road from Sutton's… what's at The Big Apple?
From the orchard and the carpark of Sutton's Juice Factory you can see Stanthorpe's famous Big Apple and the newly opened Vincenzo's at The Big Apple. This is a must-do stop, not only to capture a photo up close with the big icon, but Vincenzo's is a one-stop-shop for your deli goods, local products and even wine… all the vital supplies while on a Stanthorpe trip!