It's a beautiful sight when Queensland's wine country erupts with springtime yellow flowers everywhere!  It's the annual arrival of the coreopsis flowers, which blanket fields and pop up by the thousands on the roadsides around Stanthorpe in Granite Belt Wine Country.
It's a magical time to experience a country drive or cycle, past the swaying vivid yellow blossoms.

Best Times to See Coreopsis Flowering
November is a great month plan your trip to Stanthorpe to see the countryside transformed with coreopsis. See the flowers appearing in mid October, through November and by mid-December they have passed their peak.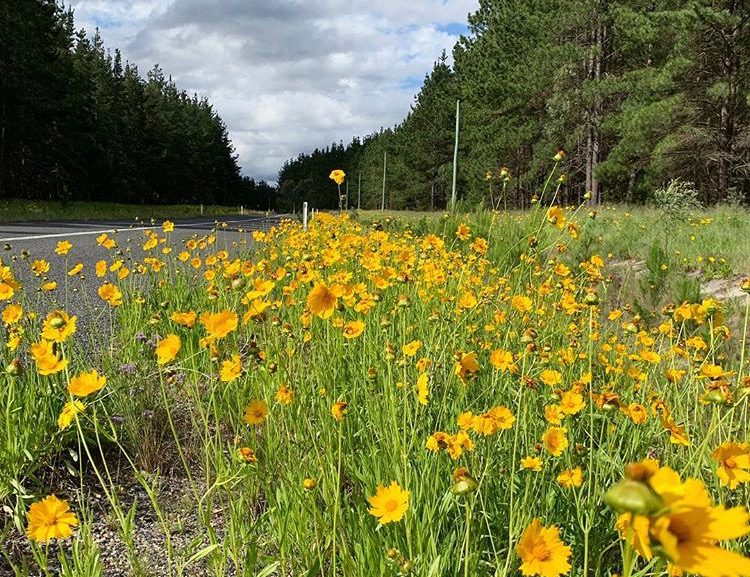 Photo: By Sutton's Farm, Location: Amiens Road, Passchendaele Forest
About Stanthorpe's Coreopsis Flowers
Stanthorpe is in fact the place in Queensland where coreopsis can be seen in their most prolific beauty. It grows wild everywhere! OK, full disclosure… the coreopsis flower is in fact classified as a weed in Queensland, so please take care not to spread its seeds to other areas or gardens. Yes we may have 'rose-coloured-glasses', but the weed status diminishes nothing of this dainty flower's beauty!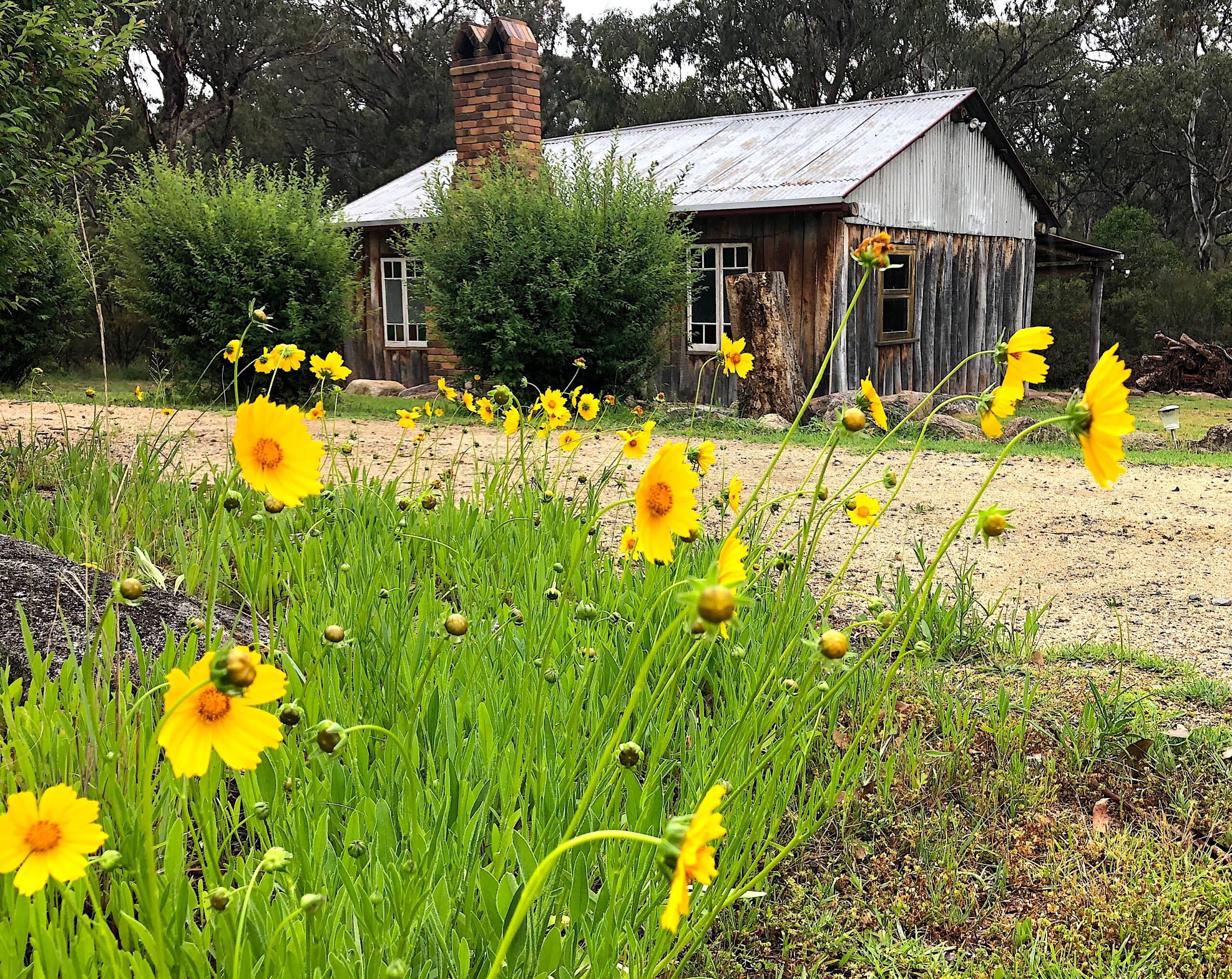 Pictured: Coreopsis flowering at the Pioneer Hut, Diamondvale Cottages
Where to Find the Coreopsis
Finding the blossoms is definitely no challenge – they are abundant! You'll start seeing them along roadsides approaching Stanthorpe from any direction.
The best spots for flowers vary year to year, but you're guaranteed to stumble on some stunning spots along the quiet country roads north of Stanthorpe, between lovely stops like Summit Estate Wines, Heritage Estate Wines, Stanthorpe Cheese and Boireann Wines.
A drive north west of Stanthorpe from Robert Channon Wines on Amiens Road to Summit Estate Wines, driving via Amiens Road through Passchendaele State Forest is a scenic spot for the flowers (see photo at the top of this page, taken late November 2018 along this road).
Cycle Through the Blossoms
Spring is a beautiful time to cycle the Granite Belt and if you follow the Granite Belt Bike Trail you'll see the coreopsis blossoms littered by the roadside along the way. It's as easy as hiring a bike or joining a tour with Granite Belt Bicycle Hire & Tours and following from foodie stop to cellar door along quiet country roads.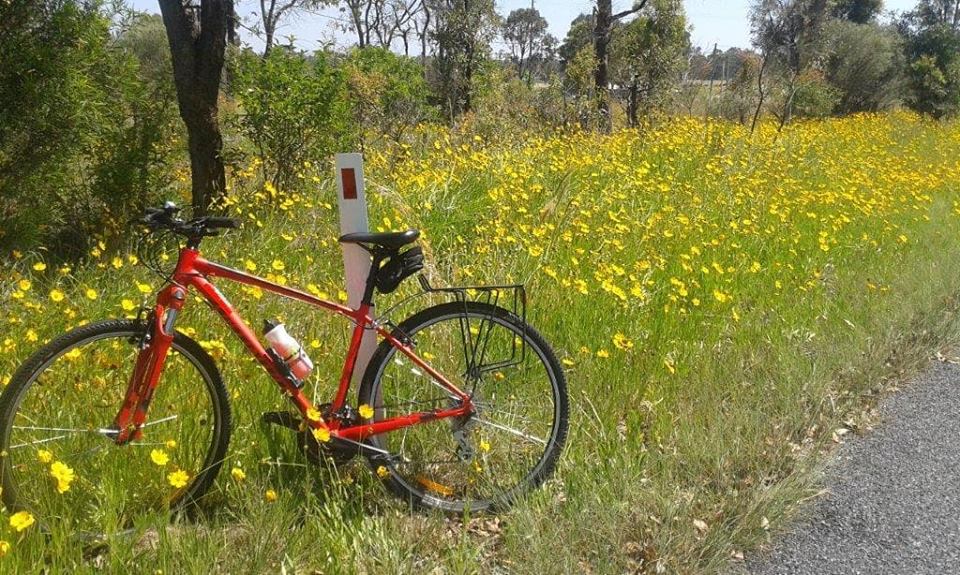 Photo: Granite Belt Bicycle Hire & Tours
Where's Your Favourite Coreopsis Spot?
There are lots of locations to uncover with gorgeous coreopsis around Stanthorpe. Let us know your own favourite spot by emailing marketing@kristahauritz.com.au and we'll keep everyone updated here!
Staying Amongst the Flowers
Pictured below are the coreopsis fields at the luxury Azjure Studio Retreat in Ballandean.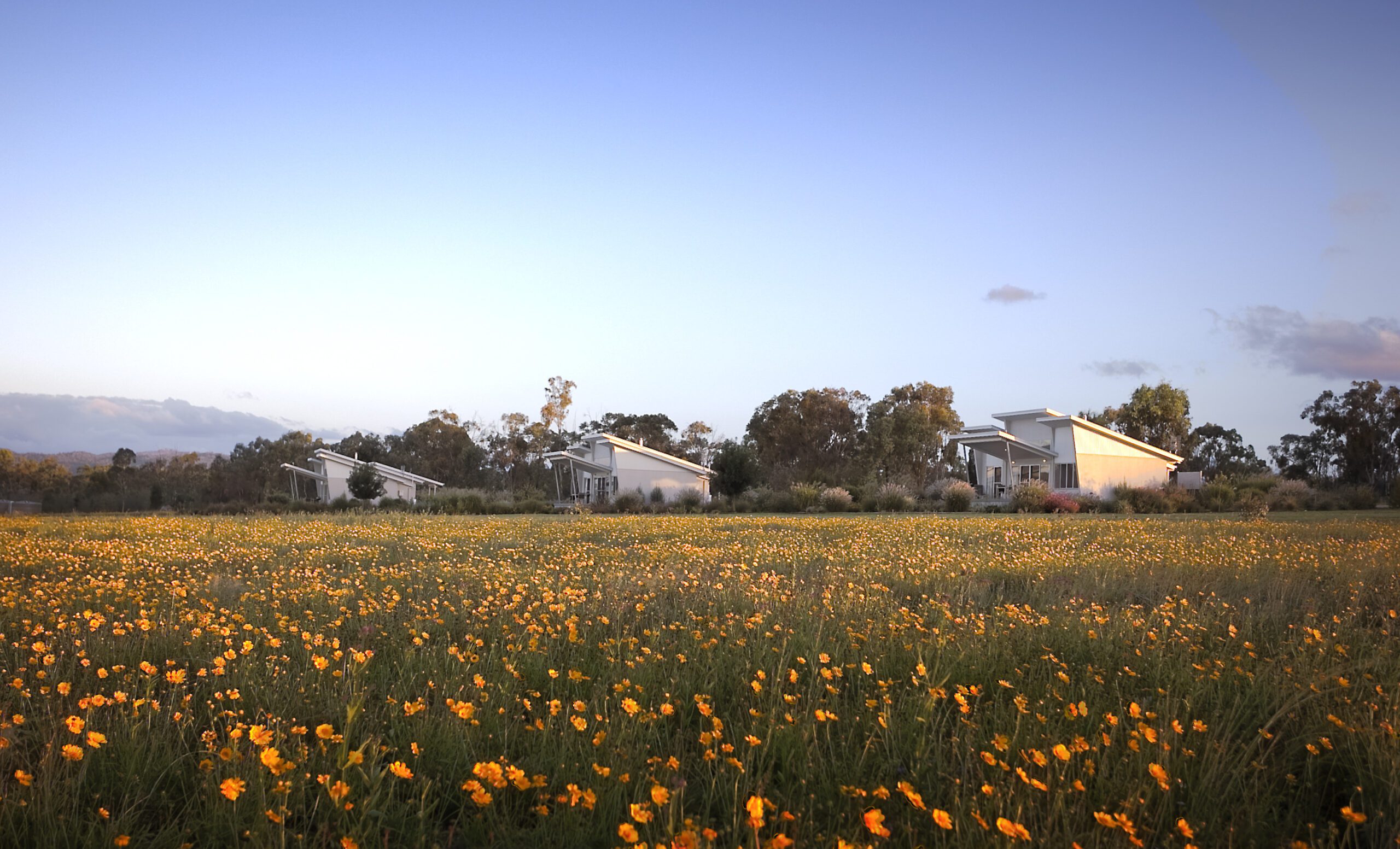 Photo: Coreopsis at Azjure Studio Retreat
Search Granite Belt Accommodation…